Meringue by Linda K. Jackson and Jennifer Evans Gardner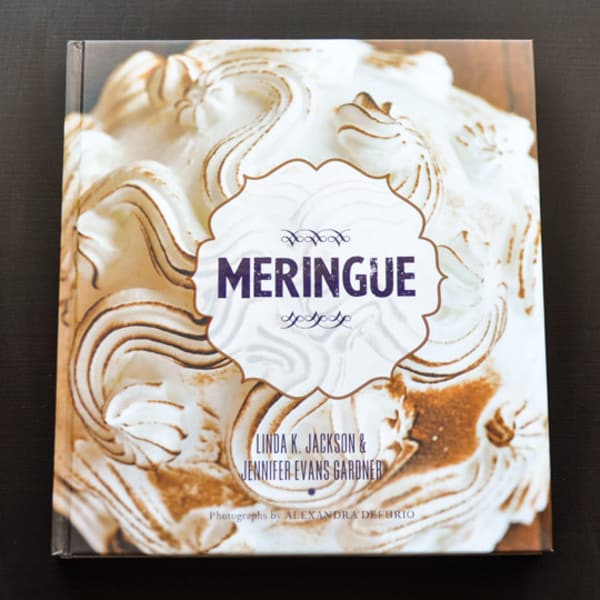 I love meringue. Love it. The whole phenomenon of crunching into a meringue and feeling the crisp fragments dissolve like a sugary snowflake on my tongue is one of the best things ever. So I am feeling especially giddy about this new book by Linda K. Jackson and Jennifer Evans Gardner, which is devoted entirely to this magical confection in all its various forms.
Quick Facts
• Who wrote it: Linda K. Jackson and Jennifer Evans Gardner
• Who published it: Gibbs Smith
• Number of recipes: 80
• Recipes for right now: Brown Sugar Crisps, Coffee Cocoa Nib Delights, Alfajores Con Bano Blañco, Kiwi Pavlova with Lime Zest, Lemon Meringue Bars, Blood Orange Curd Meringue Tart with Dark Chocolate, Coconut Meringue Cake with Lavender Flowers, Meringue Ice Cream (!!!!), S'moringues
• Other highlights: If your idea of "meringue" starts and ends with piped meringue clouds and stars, then prepare yourself for an education of the most delightful sort. This book covers all the classic meringues, from pavlova and dacquoise to Seven-Minute Frosting and Baked Alaska, plus many more inventive creations.
That Meringue Ice Cream?! If it's even half as awesome as I imagine, it will be my signature ice cream this summer. The Alfajores coated with a thin layer of crispy white meringue sound equally mind-blowing.
This is one of those cookbooks that gets your brain bubbling with exciting ideas and instills an immediate desire to clear the schedule. The photography and design are beautiful enough to make this a coffee table book, but I doubt you'll want it out of your kitchen for long.
• Who would enjoy this book? My fellow meringue-lovers, people looking for some lighter dessert ideas, pro and home bakers.
Find the book at your local library, independent bookstore, or Amazon: Meringue by Linda K. Jackson and Jennifer Evans Gardner
Apartment Therapy Media makes every effort to test and review products fairly and transparently. The views expressed in this review are the personal views of the reviewer and this particular product review was not sponsored or paid for in any way by the manufacturer or an agent working on their behalf. However, the manufacturer did give us the product for testing and review purposes.
(Images: Emma Christensen)
Kitchn supports our readers with carefully chosen product recommendations to improve life at home. You support us through our independently chosen links, many of which earn us a commission.