These Fresh One-Pan Meals from Melissa Clark Will Make Your Dinners So Much Easier
We independently select these products—if you buy from one of our links, we may earn a commission. All prices were accurate at the time of publishing.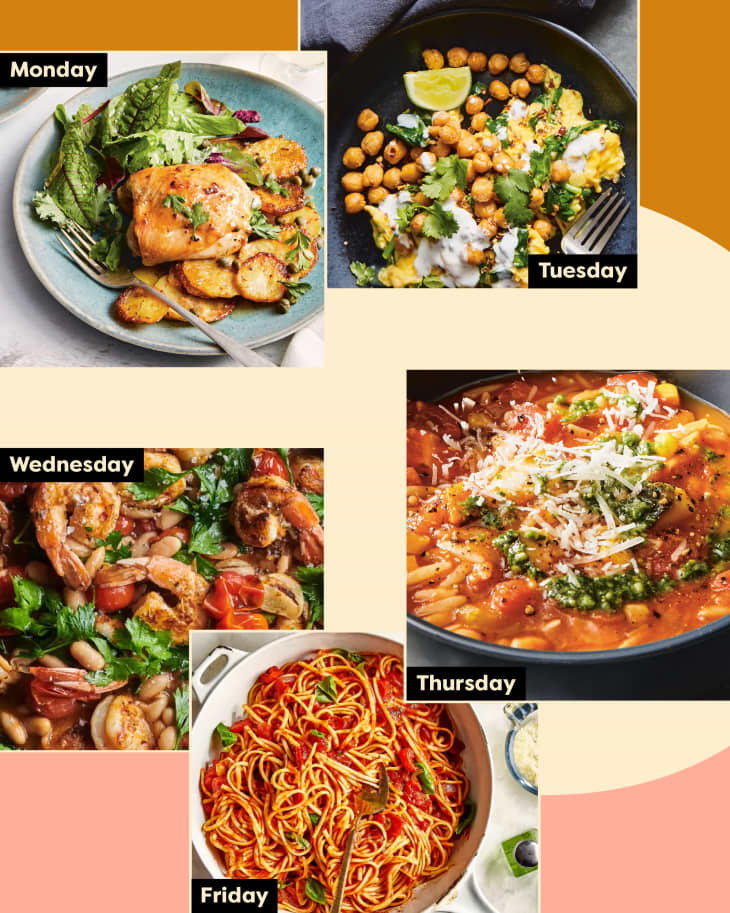 My obsession with one-pot meals began way before I started cooking professionally — back when I was in college working as a coat checker for a fancy Midtown restaurant. I liked to sneak into the kitchen to watch the chefs. I was riveted by the drama of it, the balletic grace of the cooks, the energy on the line, the frantic-but-focused hustle and bustle.
But there was one thing that appalled the fifth-floor-walkup-with-a-tiny-kitchen inhabitant that I was: the huge piles of dishes, containers, whisks, pots, pans, tasting spoons, and tongs that each line cook would go through over the course of the night.
To make one menu item, a chef might use three separate pans, two bowls, and an array of plastic squeeze bottles. There'd be a skillet for sautéing the salmon fillet, an oval sizzle platter to crisp the skin, another skillet to brown the accompanying sugar snap peas. In one bowl, pea shoots would be tossed with a couple of squirts from various squeeze bottles, in another, a sauce was reheated over a bain marie.
Scurrying in the background were the dishwashers who cleaned up every greasy pan, dirty spatula, and sticky squeeze bottle. Without them easing the flow, the chefs would have probably cursed and yelled even more than they already did.
The whole thing drove home why many recipes in chefs' cookbooks were such a colossal pain to make in my home kitchen. Chefs don't care about using every pot and pan in the house because they don't have to think about having them pile up in the sink; they have dozens of pots and pans … and people to clean them.
I took this lesson with me when I became a food writer. For every single recipe I develop, whether for a cookbook or for my Good Appetite column at The New York Times, I deconstruct the process. Is there a way I could make this recipe easier, faster, and tastier? What's the minimum number of pots, pans, and dishes I need to dirty to get here? It's a discipline that's slowly solidified into a less-is-more philosophy — less work, less mess, more flavor.
The one-pot (or one-sheet pan or skillet or casserole dish or bowl) recipes in my latest book, Dinner In One, is the culmination of it all. And this meal plan is a celebration of one-pot meals in all their variations.
The recipes are simple, but not simplistic, with complex, layered flavors that you can make with minimal stress. And they're varied enough to keep you going all week long, using fresh ingredients in streamlined ways. Even better, you might learn some new techniques and skills along the way that you can use to pare down some of your favorite more traditionally sink-full-of-dishes recipes (chances are, they were developed by chefs).
Monday: Crispy Lemon Chicken with Potatoes, Oregano, and Capers
Start the week off right with a savory, crunchy-skinned roast chicken dinner. This sheet pan version featuring chicken parts cooks much more quickly than a whole bird, but has the same homey, burnished appeal. And potatoes, roasted in the same pan, round everything out.

Get the recipe: Crispy Lemon Chicken with Potatoes, Oregano, and Capers
Tuesday: Fried Chickpeas and Scrambled Eggs with Garlicky Greens and Spicy Yogurt
Since — in this meal plan, at least — the chicken came first, eggs make a logical follow-up. Here they're scrambled, and served with crunchy chickpeas, soft tender greens, and spicy yogurt. It makes for an easy weeknight dinner that's also perfect to serve as a hearty, savory brunch.

Get the recipe: Fried Chickpeas and Scrambled Eggs with Garlicky Greens and Spicy Yogurt
Wednesday: Garlicky Shrimp with White Beans and Blistered Tomatoes
A recipe to get you over the hump, Yasmin Fahr's garlicky shrimp with white beans and blistered tomatoes takes only 20 minutes to put together, but delivers big, complex flavors in one skillet. Inspired by gambas al ajillo, it's full of garlic, chiles, and plump, tender seafood.

Get the recipe: Yasmin Fahr's Garlicky Shrimp with White Beans and Blistered Tomatoes
Thursday: Orzo Minestrone with Fresh Corn, Zucchini, and Pesto
A big pot of soup is the ultimate, original one-pot meal, and this vegetable-rich version is both light and satisfying, and just the thing to make at the end of summer. If you happen to have any left over, it will freeze perfectly well.
Friday: One-Pan Pasta with Tomatoes and Herbs
There are only a few more weeks before tomato season goes the way of pumpkins and Brussels sprouts, so now's the time to add them to everything you can. Here they star in this speedy one-pan pasta with tomatoes and herbs, which you can throw together in under 30 minutes. And if you crave this dish in the middle of winter, you can even use canned diced tomatoes. It's an adaptable, tangy dish that you'll want to make again and again.

Get the recipe: One-Pan Pasta with Tomatoes and Herbs
New to meal planning? Start here.
Click below to get more tips, insights, and ideas from our Meal Plan Club crew and readers like you.
Meal planning isn't always easy — especially if you're just getting started. But we're firm believers that it's the secret to stress-free weeknight dinners. We want to help you find inspiration and ease some of the pain points that come with getting dinner on the table night after night, whether you're cooking one or a family of four or five. Every week we share a new meal plan solution specifically customized for you from reader requests or from a guest contributor, for Next Week's Meal Plan!