Megumi's Hand-Made Brussels Kitchen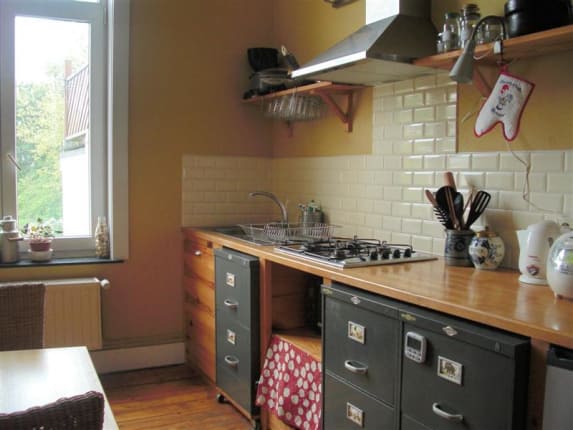 Who cooks here? Megumi and her partner Keiichi
Location: Brussels, Belgium
Owned or rented? Rented
Kitchen size: 98 square feet
What challenge have you overcome in your kitchen? I am collecting antique local kitchen stuffs, such as old medicine pots, in antique markets because these stuffs go quite well with this old and hand-made kitchen. Surprisingly, my Japanese kitchen stuffs blends in perfectly in the European taste kitchen!
Give Megumi a THUMBS UP if you think this kitchen belongs in the finals!
Thumbs Up Voting is only activated for 48 Hours — so don't delay!
What's the story of your kitchen?
Late 19th century "maison"(house), renovated by our Belgian landlord by hand. The kitchen cabinets are re-cycled old document cabinets for office. The outside of the kitchen is a park with lots of trees, so we can enjoy the sound of birds.
What is your favorite meal to cook here?
I and my partner Keiichi are trying to make authentic Belgian cuisine, such as Flemish beef stew. But my Belgian friends love my Sushi.