Meghan Markle and Prince Harry Share Details on Wedding Cake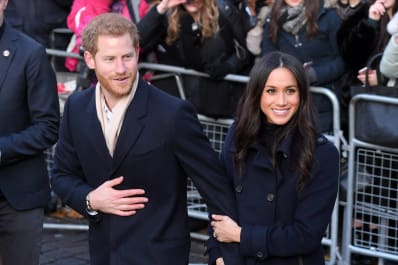 (Image credit: Karwai Tang/Getty Images)
Prince Harry and Meghan Markle have picked their wedding cake, and they're breaking with both royal tradition and internet expectations. They won't be going with the traditional nine-foot fruit cake like Prince William and Kate Middleton, but they won't be ordering a banana cake, either.
Kensington Palace confirmed this morning that Prince Harry and Meghan Markle have hired pastry chef Claire Ptak to create an organic lemon and elderflower cake for the couple's May 19 wedding.
Ptak is originally from California and was previously the pastry chef at Chez Panisse. Now she owns the Violet Bakery in East London where, according to Delish, she's known for making American-style cupcakes and brownies with high-end ingredients. Boy, her shop must be slammed this morning.
But just look at these cakes! I thought I envied the royal family's millions of dollars, diamond tiaras, and endless supply of castles, but right now I really just want a piece of this cake.
Markle actually knew Claire Ptak before she started dating Prince Harry, and she even interviewed the chef for her former lifestyle blog, The Tig.
Ptak said she's thrilled to be making the royal wedding cake. "Knowing that they really share the same values as I do about food provenance, sustainability, seasonality and most importantly flavour, makes this the most exciting event to be a part of," says Ptak.
Also, you know, it's the royal wedding! That has to be pretty exciting in its own right.
Royal wedding cakes have a reputation for being towering confections of royal icing that look like miniature palaces, but Markle and Prince Harry are going much more minimal. Their seasonal, springy cake will have buttercream frosting and be decorated with fresh flowers. Both of those were among the top wedding trends of 2018, according to Pinterest, and it's also part of Ptak's signature style.
Lemon and elderflower cake sounds like it would go really well with some cold Champagne or prosecco. If minimalist cakes and floral flavors weren't already predicted to be two of the biggest trends the year, this news would sure confirm it.
I couldn't be more thrilled, either, because this means every random cake shop and patisserie from Cornwall to Indiana is going to start making lemon and elderflower cakes.
I've just written "lemon and elderflower cake" so many times that if I don't get to eat one soon, I'm pretty sure I'm going to die from acute lack of cake. (Come on, Kroger, I know you can have lemon-elderflower cupcakes on the shelves by this afternoon.)
It's hard to believe we're barely two months away from the next royal wedding! It seems like just yesterday we were all talking about engagement chicken. Now I'm getting excited all over again.
What do you think of lemon and elderflower for the royal wedding cake?