Heinz Sparks Debate with the "Mayochup" Condiment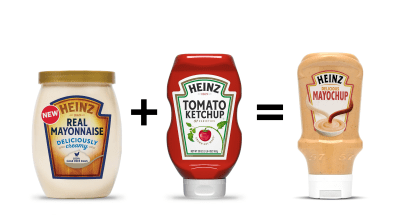 (Image credit: Heinz/ Twitter)
The most memorable scene in Pulp Fiction is still the exchange between Vincent and Jules, when they're talking about the little differences between the United States and Europe. Vincent is floored that he can get a beer at an Amsterdam movie theater, order a Royale with Cheese at a McDonald's in Paris, and watch the Dutch dip their fries in mayonnaise. "I seen 'em do it, man," he said. "They [freakin'] drown 'em in [it]."
I'm a big fan of mayo on French fries — and an even bigger fan of combining mayonnaise and ketchup. And now, Heinz seems to be eliminating the step of stirring two condiments together by releasing its own pre-made combo, Mayochup. "Want #mayochup in stores?" the company teased on Twitter. "500,000 votes for 'yes' and we'll release it to you saucy Americans."
Want #mayochup in stores? 500,000 votes for "yes" and we'll release it to you saucy Americans.

- Heinz Ketchup (@HeinzKetchup_US) April 11, 2018
Although Heinz already sells Mayochup in some countries in the Middle East, this would be the first time it has been offered in the United States. "At Heinz, we are always looking for opportunities to bring great tasting products to our consumers," Nicole Kulwicki, director of marketing for Heinz, said in a statement.
But because everything is complicated and nothing is new — especially not squeezing two condiments together — Heinz's mentions were flooded with people pointing out that Mayochup already exists, in the United States and elsewhere. "[T]he combination is as just about as ingrained in Caribbean cuisine as plantains and rice," The Washington Post wrote. "Sometimes adding a touch of garlic or adobo seasoning, Puerto Ricans smother it on just about anything fried: mofongo and tostones — both made with fried plantains — yuca, french fries, and more." (Also, Puerto Ricans call it mayoketchup, which already sounds better).
The Post also reports that this combination originated not in Puerto Rico — or with a Pennsylvania ketchup company — but with an Argentinian teen named Luis Federico Leloir. In the 1920s, he was eating shrimp with his friends, mixed ketchup and mayo together, and called the end result "salsa golf." The combo was mass-produced several decades later, and remains a staple in the South American country.
this is called FRY SAUCE you thieves.

1. it's been in utah for like 100 years
2. fire whoever came up with the name "mayochup" because they're a mayoCHUMP https://t.co/zB8a2lluKq

— セージ (@sagenigma) April 11, 2018
Meanwhile, Utahns are like "HEY, THAT'S OURS," because they have a similar condiment called Fry Sauce, that was invented by Salt Lake City chef Don Carlos Edwards in the late 1940s or early 1950s. "Fry sauce really came to be after Edwards showed it to nearly anyone who would listen," Kasey Christensen, the chief operating officer for Edwards' Arctic Circle Restaurants, told Eater. "There was once a time when even our burgers had that pink sauce slathered on it. We used to put fry sauce on our sandwiches and some years later on we reversed that trend, and people reserved it for their fries."
Whatever you call it — and whoever you credit with inventing it — it might be in American grocery stores later this year. Or you could just buy a bottle of ketchup and a jar of mayonnaise and make your own, anytime.