Matt, Ryan and Mason's Artist Kitchen
We
independently
select these products—if you buy from one of our links, we may earn a commission. All prices were accurate at the time of publishing.
Three guys living in an artist loft, and one of them likes to cook — that's pretty good odds, don't you think? Matt is the resident chef at these hard-to-believe-it's-not-a-TV-show-set living quarters. Take a peek at this bachelor pad loft kitchen, inhabited and enjoyed by three artists.
When Matt and Ryan moved in, they gathered the essentials of a kitchen from far and wide. The counter/bar was salvaged from a sidewalk at the Brooklyn Navy Yard, sawed in half, and carried up the stairs. The Vulcan stove — the prize of the kitchen was also carried up the long flight of stairs. No easy feat!
Two refrigerators make it easy to keep personal and public separate. One fridge is for party guests, and the larger fridge is dedicated to domestic life and the needs of the three roommates.
But as soon as I saw the bevy of spices lined up in the corner, I knew this kitchen wasn't just a repository for cold beer at parties. There's real cooking that goes on here! Matt's even gone as far as fulfilling a couple of catering gigs out of this home-made kitchen!
An interest in quality food, the source of the food they eat — to the point of growing it on the adjacent roof, and a delicious tasting meal is the motivation that drives what comes out of this kitchen. This interest and motivation far outweighs the need for fancy appliances and marble countertops and for sure, guarantees more success than any gadget ever could!
10 Questions for Matt (and His Kitchen)
What inspires your kitchen and your cooking?
New York inspires me with all the amazing food that I have access to here. I've spent a lot of time all over the country and while each area has certain strong points, no city has the canvas of culinary prowess that exists here.
What is your favorite kitchen tool or element?
We have 50 square feet of gardening space out back. That's invaluable. As far as a simple kitchen tool, I find myself looking for the zester a lot — citrus goes a long way.
What's the most memorable meal you've ever cooked in this kitchen?
I honestly can't say. An old roommate and close friend (Brandon Crowe) is a chef and we have been incredibly lucky to have so many great meals here with good people. There was a lobster bake this past summer where we dumped the pot out — clams, mussels, lobster, crab, shrimp, potatoes, vegetables — onto construction paper we had laid out on the table on the back patio and just feasted. No utensils, lots of rose and drawn butter and lemon. That was a good one.
Biggest challenge in your kitchen?
Dishes.
Biggest indulgence or splurge in the kitchen?
The Vulcan oven was purchased this past summer from a couple in New Jersey who were practically tearing up as they let it go. It didn't fit into their kitchen renovations and I was the lucky benefactor; it's my baby.
Is there anything you hope to add or improve in your kitchen?
A dishwasher and disposal.
How would you describe your cooking style?
I have no idea; I just like to cook… though I will say that I do believe in the ability to make really good food without an overabundance of oil and butter.
Best cooking advice or tip you ever received:
Clean as you cook.
What is your favorite cookbook?
Thomas Keller's Ad Hoc because the recipes are much more approachable as opposed to his other collections. My mother lives in Napa, CA and it's one of my favorite restaurants to visit when I'm there so it's fun to recreate what I've eaten, or at least attempt to do so.
What are you cooking this week?
I went to an Asian market in West Hartford, CT this past week with a friend and will be experimenting with a few things that I picked up. Otherwise, I'd like to eat some steak. I might love a rare, well-seasoned filet more than anything else.
• Most everything was hand-built, except of course the Vulcan oven. I'm not entirely sure where the fridges came from. All kitchen utensils were gifts at some point or another. The real big find was the the bar which was found on the street by a friend and then was cut in half in order to get it into the building. We refinished it this past spring. All artwork is courtesy of Ryan Metke.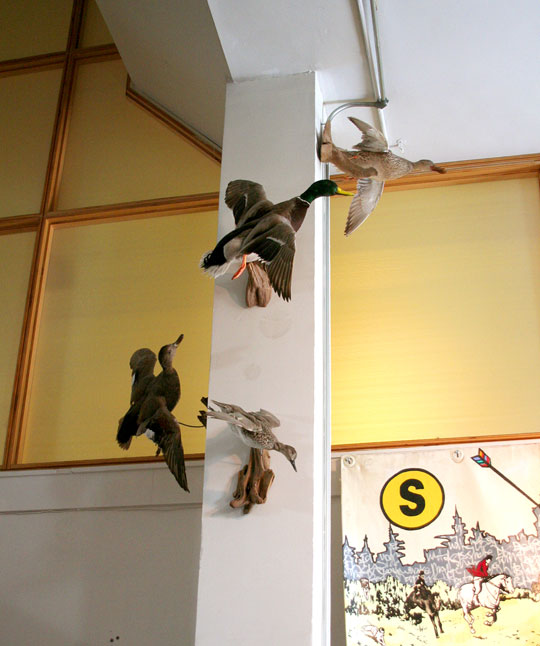 Share your own kitchen renovation or improvement!
We're always looking for real kitchens from real cooks.
Show us your kitchen here!