This Is Mary Berry's Secret to Perfect, Crumb-Free Cake Icing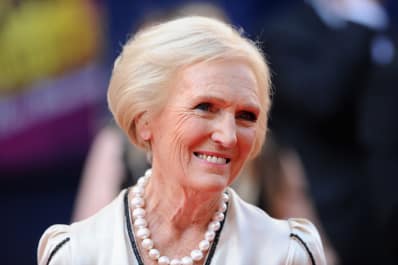 (Image credit: Stuart C. Wilson/Stringer/Getty Images)
There's really no better authority on baking than Mary Berry, a woman who has sold more than 5 million cookbooks, was hands-down the best judge on The Great British Bake Off, and clearly understands the value of making your own marzipan.
The always impeccable 82-year-old has been described as the "Queen of Cakes" — a title she's earned after spending the past 60 years teaching multiple generations of Brits how to bake. (The BBC has also called her "the doyenne of baking," and, after googling the word "doyenne," I realized how complimentary that was).
Before she left The Great British Bake Off, her recipes were so enthusiastically received that she was credited with increasing the sales of baking pans, specific recipe ingredients like glace cherries, and bandages and burn creams for over-enthusiastic amateur chefs. According to British supermarket chain Waitrose, Berry caused a 14% increase in sales of piping bags for icing, because the public was clearly eager to learn Berry's secrets.
It seems like every time she preheats an oven, she shares some valuable piece of advice for improving our own baked goods. It's impossible to rank her best tips — because they're all worth storing somewhere in the cake-centric lobes of our brains — but we do love her solution for keeping crumbs out of the icing.
Mary Berry's Secret to Perfect, Crumb-Free Cake Icing
According to Berry, the best way to have pristine, crumb-free icing is to first brush the top and sides of the cake with apricot jam, which provides a base for "a thick and uninterrupted layer of icing."
Berry advises heating the jam first with a "splash of water," and then pushing it through a sieve. Then she says you'll be ready to brush a thin layer across the cake's surface, before adding the icing. It sounds so simple, but it's also something that we never would've thought of if you gave us one million cakes to ice. (We wouldn't have thought of it because we'd be dead from trying to eat our way out of that much cake).
Berry has used the "jam-first, icing-next" technique for all manner of cakes, from her classic Christmas cake to chocolate and orange sponge cakes to her decadent-sounding chocolate reflection cake. Essentially, it seems extremely well-suited to chocolate or fruit-focused cakes.
Berry will be back on British television later this year, with a new show called Classic Mary Berry. Better stock up on piping bags now! (And maybe buy some Band-Aids, too — just in case.)
Do you have any tips for keeping crumbs out when icing a cake?