The New Trailer for "Britain's Best Home Cook" Makes Mary Berry Look More Intimidating than Gordon Ramsay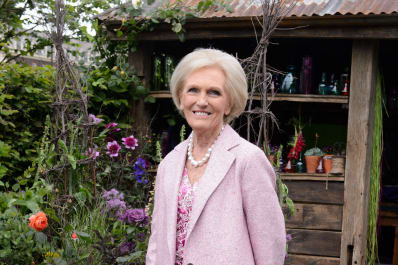 (Image credit: Jonathan Hordle/REX/Shutterstock)
My favorite thing about reality TV is imagining what I would do if I were on it. What would I cook? What funny things would I say back to the judges? I do that for all shows, regardless of how absurd my participation would be, like Project Runway, The Voice, and America's Next Top Model. I am convinced I would be sensational on Nailed It.
But I just saw the trailer for Britain's Best Home Cook on the BBC, and I don't think I could handle the pressure of being judged by Mary Berry.
I fell in love with Mary Berry when she first appeared on The Great British Bake-Off with her colorful scarves, perfectly coiffed hair, and encyclopedic knowledge of pastries. I want her on my television in whatever form she deigns to appear.
She's riveting on Classic Mary Berry, where she demonstrates cooking techniques and profiles chefs around Britain, but I did miss seeing her judge the cooking of earnest, amateur chefs. Luckily, now she's coming back as the judge of a new cooking show, Britain's Best Home Cook.
The first official trailer for Mary Berry's new show was just released, and it is hilarious. Millions of people probably dream about being on a cooking show with Mary Berry, but in this trailer she and her fellow judges just invade the kitchens of unsuspecting Britons and start taking bites of their food.
One man screams when host Claudia Winkleman walks in while he's rolling homemade pasta. A young woman looks like a deer in headlights as Mary Berry pokes at her beef Wellington and whispers with Dan Doherty and Chris Bavin about mistakes she sees, and that it's such a shame the pastry is cracked.
"Don't judge me," the woman pleads.
"I'm so sorry, it's what they do," Winkleman says, giving the poor lady a comforting pat.
Watching the trailer, I laughed, I rewound to watch the funny bits a second time, and then I suddenly realized that I am petrified of Mary Berry.
Plenty of reality TV judges are loud, snarky, or even downright insulting. But none of those things are half as brutal as Mary Berry's quiet perfectionism. She's a more intimidating judge than Gordon Ramsay. I'd rather be called an "idiot sandwich" than hear Mary Berry whisper, "It's a shame the sponge is so dry."
Gordon Ramsay wants to be upset. He probably makes $10,000 every time he thinks of a new way to call someone an idiot. But Mary Berry genuinely seems to be looking for perfection. She knows what it looks like — she mastered it herself 75 books ago — and she expects nothing less from everyone else. I don't think I could deal with disappointing her.
"I am never more at home than when I have my judging hat on," Berry said of the new series. "This series is going to encourage proper home cooking which I have always championed and I cannot wait to start."
Mary Berry is a treasure, and she knows more about home cooking than most people could learn in a lifetime. I can't wait to see the new show, and I look forward to writing down everything she says — from the safety of my own sofa.