Martin Luther King Jr. Day: A Day of Service & Hospitality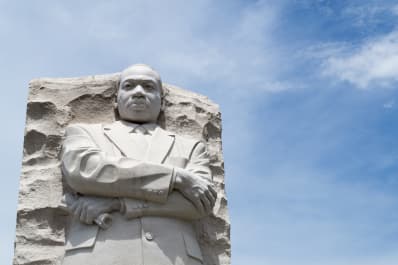 (Image credit: Ruben Martinez Barricarte/Shutterstock)
Today is Martin Luther King Jr., Day, and a holiday for many of us — one where we remember and celebrate Dr. King's legacy through service to others.
Kitchn and Apartment Therapy are both devoted to helping people make their homes beautiful, organized, and healthy. We also believe in taking care of our bigger home, whether it's our neighborhood, country, or planet. So we encourage you to find a way today to volunteer, serve others, or simply make a meal for someone close to you. Bake a batch of cookies, invite someone to dinner, stock up your freezer with soups to give away later, or simply make an especially loving dinner for your household.
More ideas: 3 Ways to Benefit Your Community Through a Soup Swap
Every year I read Dr. King's "Letter from Birmingham Jail" as a reminder of his courage and integrity, and the role he played in our country. If you've never read it I highly recommend it.
I also really love this quote below from Joy Bennett Kinnon about Dr. King and honoring his legacy.
"The first challenge in honoring the life of Dr. Martin Luther King Jr. is to keep it real. I'm fortunate because some of my colleagues actually knew him as a young man and worked closely with him until his death. They tell me that King as a young man loved to have a good time. He loved soul food: red beans and rice, greens and ham hocks and pigs' feet."
She continues with a quote that I love from Dr. King.
"I choose to identify with the underprivileged," King said. "I choose to identify with the poor. I choose to give my life for the hungry. I choose to give my life for those who have been left out of the sunlight of opportunity. I choose to live for those who find themselves seeing life as a long and desolate corridor with no exit sign. This is the way I'm going. If it means suffering a little bit, I'm going that way. If it means sacrificing, I'm going that way. If it means dying for them, I'm going that way, because I heard a voice saying, `Do something for others.'"
Hospitality of home and table is perhaps the most direct, personal avenue to "keeping it real," in the pursuit of friendship and peace with others. King's legacy continues to challenge us to extend hospitality to those who are different from us, to those who come from different backgrounds and cultures, to those who may think differently.
We want to find inspiration in that here at Kitchn, and to find new ways, together with you, to identify with the poor, give to the hungry, and open our homes to the stranger.
Happy Martin Luther King Jr. Day, and happy cooking.