MarthaWatch: Inside the Test Kitchens at Martha Stewart's Studio
Take a look at the . The studio covers 75,000 square feet in the Starrett-Lehigh Building on 26th Street in far west Chelsea NYC. I snapped these pictures on a behind-the-scenes Halloween tour I took on Tuesday night.
The story goes that the first time Martha toured the space, she rode her SUV up the truck elevator and did a drive-through inspection of the place.
[If you haven't taken an Apartment Therapy photo tour before, we wanted to let you know that all you have to do is click the link to see the first photo. Then use the left and right arrow keys to navigate through the rest of the pictures. Or, to see all the images on one page.]
The company leased the space in 1999 and filled in the vast loft space with offices, kitchens, and editing suites. The tour guide said six to ten editors and assistants work in this kitchen testing recipes. Each recipe is tested about ten times before it makes it into a magazine or TV show.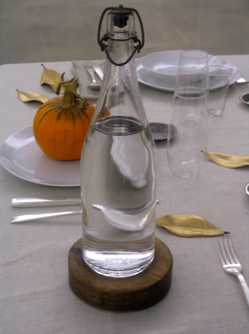 bottles for water pitchers. Anyone know where we can get these thick industrial-looking coasters?
Published: Oct 26, 2006