Martha Stewart's Best Sandwich Secret Comes from Snoop Dogg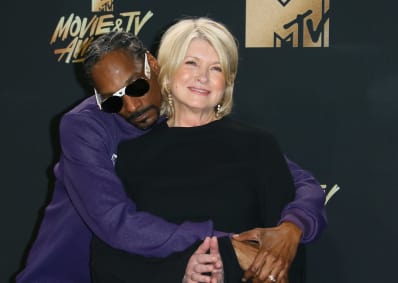 (Image credit: JB Lacroix/Getty Images)
Martha Stewart knows how to make a sandwich better than most people. But it was Snoop Dogg who gave her possibly her best sandwich secret ever: bacon mayonnaise.
What on Earth Is Bacon Mayonnaise?
It's exactly what it sounds like: mayonnaise with bacon in it. And there's no secret culinary technique, either. Martha just crumbles strips of bacon directly over a bowl of mayonnaise and mixes it in. For such a simple technique, it's actually brilliant. Many versions of "baconnaise" or "bacon mayonnaise" involve making homemade mayonnaise with bacon fat instead of olive oil to create a bacon-flavored mayonnaise, but not Martha and Snoop's.
Martha showed Jennifer Garner the trick while teaching her to make lobster BLTs during a Facebook Live video this week, where she explained her method.
"It's easier to crumble bacon and put it on the sandwich than to put those big pieces of bacon on," Martha says. "That's the one thing I learned from Snoop, is crumble your bacon."
Why You Should Try Snoop's Bacon Trick Too
Adding chopped bacon to mayonnaise is brilliant. A sandwich or burger with big strips of bacon on it can be difficult to eat, because the bacon pieces tend to crumble or fall out. I always wind up having to open the bread and rearrange all the bacon pieces inside the sandwich like a puzzle.
In the worst-case scenario, the bacon strips fail to break completely when you bite them, and the whole piece slides out of the sandwich, leaving you with a whole strip of bacon between your teeth and a sandwich in your hands that is now tragically baconless.
Crumbling the bacon in advance spares you all that trouble, and mixing it with mayonnaise ensures there will be a piece of bacon in every bite.
What do you think of bacon mayonnaise?