I Tried 2 Famous Recipes for Parker House Rolls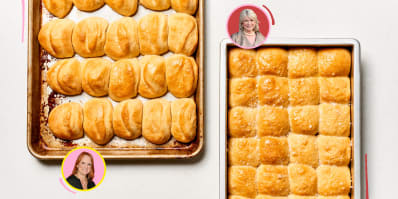 (Image credit: Photo: Joe Lingeman; Design: Kitchn; Headshots, from left to right: Bobby Bank/Getty Images, Steve Granitz/Getty Images)
Ever since my sister-in-law decided to start baking Parker House rolls for Thanksgiving a few years ago, our holiday has been better for it. After they were polished off in record time, we knew it would be a new holiday tradition, and now it's one every single one of us looks forward to.
Parker House rolls are just about the most buttery, indulgent dinner rolls around. And while I love my sister-in-law's recipe, I was curious to see how others fared in comparison, so I baked up a batch of two of the most popular ones on the internet — Martha Stewart's and Ree Drummond's — to compare. Here's how things went and what I thought.
Recipe: Pioneer Woman's Parker House Rolls
Recipe: Khalil Hymore's Parker House Rolls, via Martha Stewart

The Pioneer Woman's Parker House Rolls
The Pioneer Woman's Parker House roll recipe makes enough to serve an entire ranch. So if you've got a large family, that alone makes them a winner. If you're feeding a smaller crowd, however, a yield of 72 dinner rolls might be a little daunting, as it was for me. Luckily, the recipe halves easily, if needed.
The recipe calls for more than a pound (!) of butter, so I felt pretty confident they'd stand out just based on that. In reality, there actually seemed to be too much butter. To form the rolls, you roll out the dough, cut it into circles, dip the circles into melted butter, then fold them in half and place them on a sheet pan to bake. This method made the circles extra slippery, and it was tough to get them to seal shut. Instead, I folded them first and then brushed the folded rolls with butter. One other important note: The dough doesn't take well to being re-rolled, so some of the scraps were wasted.
All that butter means the rolls brown quickly. While the bake time is 15 minutes, mine were golden at 10 minutes and almost too brown at 15, so be sure to keep an eye on them.
Finally, while the recipe was straightforward, it's not the most Thanksgiving-friendly, as it does require a good deal of time and attention. There aren't any make-ahead instructions, but I do think you could form the rolls, freeze them on a sheet pan, then bake them when needed following this method.
Overall Rating: 7 out of 10
These rolls were messy to make and all that butter didn't actually result in a better end result, although they were definitely soft and tasty.
Martha Stewart's Parker House Rolls
Martha Stewart's recipe started off shaky, as the amount of salt differs between the ingredient list and instructions. After scrolling through the comments, I learned I should use what's listed in the instructions: 2 1/4 teaspoons. Then, the recipe tells you to beat the dough in a stand mixer on medium-high speed for 10 minutes. One minute in and my mixer was struggling with the weight of the dough, so I switched it to low speed for the same amount of time and still got a perfectly soft, smooth ball of dough. (If you don't have a stand mixer, I think it would work to knead this by hand.)
While the baking time says 30 minutes, mine took almost 40 minutes to get golden-brown. I'd recommend starting to check them at 30 minutes, knowing they could take five to 10 minutes more. Also, the recipe calls for sprinkling the rolls with salt immediately after they come out of the oven, but the salt just fell onto the sides of the rolls instead of sticking to the top. Instead, I'd recommend sprinkling them with salt before baking, after brushing with half the melted butter. Then, like the recipe says, I'd brush the remaining melted butter on right after they're done baking.
The resulting rolls were extra tender and tasted just as buttery as Ree's, even though they called for much less butter. They looked really nice and homey all tucked into the baking dish, and if I were serving them for Thanksgiving, I'd serve them right out of the vessel.
I also appreciated how the make-ahead options were so clearly stated in this recipe, which really lends itself perfectly to Thanksgiving.
Overall Rating: 8 out of 10
The instructions and baking time were a little off, but once I straightened these things out, the rolls were a classic and perfect fit for the holiday.
Do you have a favorite Parker House roll recipe? Tell us in the comments!