I Tried Martha Stewart's Basic Pie Dough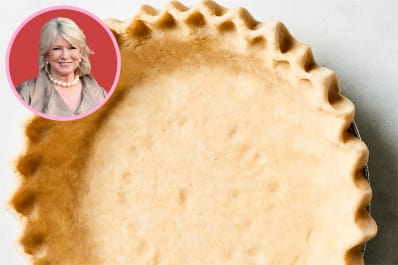 (Image credit: Photo: Joe Lingeman; Design: Kitchn; Headshot: Steve Granitz/Getty Images)
Many consider Martha Stewart the queen of modern hosting. Fans are devoted to her recipes — whether it's mac and cheese or holiday turkeys — partially because they're tasty, of course, but also because she makes them all look so easy to master at home. Her pie crust recipe is no exception. Ask a half-dozen friends for pie crust recommendations, and I guarantee at least two of them will mention Martha.
This month, as Kitchn editors are trying out some of the most popular holiday recipes in our own kitchens, it was a no-brainer to include Martha Stewart's pie crust recipe. I test-drove the crust alongside some other heavy hitters, including Alton Brown, Ina Garten, and Ree Drummond. Mixing, rolling, and baking these pie doughs side by side quickly showed each of their successes and highlighted their flaws. Of all of them, Martha's instructions were the shortest — almost to the point of being too short. Here's what happened when I followed them exactly.
How to Make Martha Stewart's Basic Pie Dough
Most pie crust recipes follow a similar formula: 2 1/2 cups all-purpose flour, a pinch of salt and maybe some sugar, 1 cup of fat, and just enough ice water to hold it all together. What makes each different is typically the type of fat they use. Martha calls for all butter (as opposed to shortening and lard, which are also commonly used in pies).
Martha has you mix up the pie dough in a food processor, which is, hands-down, the most popular way to make pie crust these days. The flour, sugar, and salt get a quick pulse, followed by the butter (which you've already cubed and chilled), and then the water.
The dough is divided, wrapped in plastic wrap, and chilled at least 1 hour before rolling and baking.
(Image credit: Photos: Joe Lingeman; Design: Kitchn; Headshot: Steve Granitz/Getty Images)
What I Thought of the Results
Simple is often good, but in the case of a pie dough with so few instructions, Martha's basic pie dough disappoints. I can't imagine coming to this recipe as a new baker and having success.
The brief instructions start to crumble as soon as the butter is added. How big should the butter pieces be in when I add them in, and how do I know how many pulses it will take to get a mixture that "resembles coarse meal with a few pea-sized pieces?"
Next, Martha tells you to add the water in batches, testing for doneness before adding more, but also warns not to overmix. Which is it, Martha? Because anyone who's made pie dough will tell you it's hard to add water bit by bit, pulsing in between, and not overmix!
I have a baking and pastry background, so I've made a lot of pie dough in my lifetime. I can say with confidence that compared to the countless other recipes I've used, this one was a disappointment. Fine details that might help a home baker are totally left to inference.
On the plus side, rolling the pie dough was easy enough and the dough baked well without shrinking. The small addition of sugar in the dough helped it brown beautifully, but as can be the case with all-butter pie crusts, this one was pretty crumbly (we've found that adding the butter in two additions prevents this).
If You Make Martha Stewart's Pie Crust ...
1. Get your ingredients prepped before you start.
Martha doesn't include it as a step, but I prefer to cut the cold butter into cubes and put it in the refrigerator before you pull out the food processor and start measuring the flour. You should also make yourself a little pitcher of ice water so that once you start pulsing, everything happens quickly and the butter stays cold.
2. Add the butter in two additions.
Start by pulsing half the butter into the flour mixture. Then add the other half when you add the first dose of water. Your ultimate goal is a dough that holds together when squeezed, but half the butter should still remain in pea-sized chunks, which makes the rolled and baked dough flakier.
One additional note: This recipe appears in various forms on Martha's site. I used this recipe, which yields enough dough for one double-crust or two single-crust pies.
Overall Rating: 6 out of 10
Martha's pie crust ratio is right on, but her instructions leave too much to interpretation. If you follow her instructions to the letter, expect a more tender than flaky pie crust.
Have you tried Martha Stewart's pie dough? What did you think of it? Or is there another famous recipe you swear by every year? Tell us everything in the comments below!