Martha Stewart's New Book Series Sounds Like the Harvard Classics of Life Skills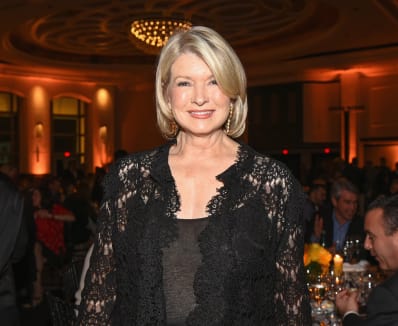 (Image credit: Denis Contreras/Stringer/Getty Images)
At the beginning of the 20th century, the then-president of Harvard asserted that a five-foot shelf of books could provide a good substitute for a liberal arts education to anyone who took the time to read them. Some publishers saw a money-making opportunity when they heard that and said, "Okay, which books?"
The result was the famous Harvard Classics, or the "Five-Foot Shelf," a 50-volume set of books designed to serve as a reading list or a sort of mobile university. (The series has been around for more than 100 years, and you can usually find it on eBay starting at about $3 a book.)
If the Harvard Classics is a 19th century liberal arts education on a shelf, Martha Stewart's new book series sounds like the equivalent to a master's degree in Home Economics. According to a press release, the upcoming three-volume series is an "essential guide to doing things the Martha way," and it's designed to be a go-to resource for homekeeping, entertaining, healthy living, organizing, and decorating.
This new series sounds like it could be super useful for a lot of people. We're not born knowing basic life skills like cursive writing, drywall-patching, button-sewing, laundry-separating, and chicken-roasting. And no one knows how to do everything — except for Martha Stewart.
The first book in the series is called The Martha Manual: How to Do (Almost) Everything, and it's a fully illustrated handbook on "how to do it all." That sounds like a lot to promise, but the book will reportedly provide instruction on everything from pruning roses to patching drywall, with plenty of clear photos and illustrations.
"After years of 'doing it all,' I'm glad to share a lifetime of knowledge of invaluable tips and strategies. From celebrating to homekeeping to numerous other life skills, the chapters in the book will cover useful insight and solutions in an easy-to-follow and beautifully photographed format," Martha Stewart said. "The Martha Manual is the go-to resource for anyone who wants to learn how to do everything the Martha way."
Martha's books are a fantastic place to start if you actually don't know anything about a subject. I bought a house a few years ago, and before I moved in my mother gave me a copy of Martha Stewart's Homekeeping Handbook: The Essential Guide to Caring for Everything in Your Home. It was an absolute lifesaver. Her instructions aren't too basic and never talk down to you, but they also never assume a level of pre-existing expertise.
If a space alien, who didn't know what a house or a cooking pot was, wanted to move into an Earth neighborhood and blend in with humans, it should read Martha Stewart's books on the way over.
The Martha Manual comes out on January 1, 2019, and it will be followed by two more volumes about how to live "the Martha way." The second and third books in the series have not yet been announced, but the topics will cover healthy living and organizing as well as decorating and entertaining.
And as long as we're doing things "the Martha way," what I'd really like to see is Martha Stewart's guide to entrepreneurship and business, because Martha Stewart is great at cultivating peonies and decorating cookies, but she's really good at being one of the most successful businesswomen of all time.
Kitchn supports our readers with carefully chosen product recommendations to improve life at home. You support us through our independently chosen links, many of which earn us a commission.