Here's What Martha Stewart Would Bring to Friendsgiving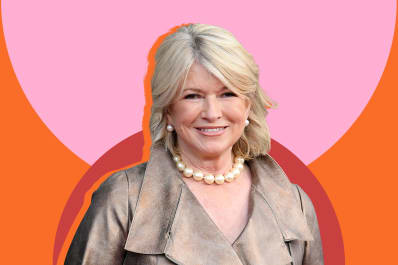 (Image credit: Design: Kitchn; Headshot: Steve Granitz/Getty Images)
Can you imagine rolling up to your friends' annual Friendsgiving celebration, armed with paper plates and red Solo cups, only to find Martha Stewart inside, lighting a candelabra and smoothing out a freshly ironed table runner, upon which to display her contribution?
Seriously, try to name a more intimidating co-potluck attendee than Martha Stewart. I'll wait ...
The highly regarded hostess with the mostess is passionate about making beautiful things from scratch, including but not limited to intricate crafts, floral arrangements, and recipes. So, as you might assume, when it comes to Martha's pick of what to bring to Friendsgiving, that's definitely also the case. Here's what Martha had to say when we asked her for her best potluck recipe.
(Image credit: Johnny Miller / Martha Stewart Living)
"Thanksgiving is a perfect time to bake fall pies, one of my favorites is a poached-pear frangipane tart. It's delicious and the pears are poached in mulled wine which gives them a great taste and beautiful color."
The recipe appears in the November issue of Martha Stewart Living which is currently on newsstands.
Would you like the good news, or the bad news about this recipe?
The bad news? It takes eight hours to make. We don't advise that you choose to hastily prepare this poached-pear Frangipane tart with just an hour's notice. That said, if Martha Stewart is your Friendsgiving muse, you probably haven't overlooked a single detail and won't run into that problem.
The good news? Most of the eight hours involve waiting for the poached pears to soak up the ever-seasonal mulled wine that they're prepared in, and then waiting for the tart to cool completely. All in all, this recipe really only requires just 50 minutes of active Martha-ing.
The end result is a stunning ombré jaw-dropper of a tart that will have all other Friendsgiving attendees questioning whether or not you're Martha Stewart. And to that you can say, "Kind of!"