Mark Sexauer's Cocktail Ideas for Valentine's Day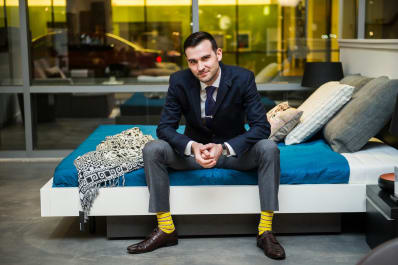 (Image credit: Mark Sexauer)
Will you be cooking a romantic dinner for a loved one tonight? Or perhaps treating yourself to a special solo meal, no partner necessary? This week we have been talking to chefs, food writers and bloggers about their ideal Valentine's Day menus, and whether you're married, single, or it's complicated, we have ideas for all kinds of cooks, from the hopeless romantic to the die-hard cynic.
A well-made cocktail is the perfect start to any Valentine's Day meal and today mixologist Mark Sexauer, author of Aphrodisiacs with a Twist, shares his favorite cocktail for a romantic evening together — and his pick for the best "strong and simple" drink for sipping solo.
What are a few of your favorite drinks for Valentine's Day?
Contrary to popular belief, alcohol is not an aphrodisiac, but it does lower your inhibitions and for Valentine's Day sometimes that's exactly what you need. The real aphrodisiac is a healthy relationship — or the beginnings of one. Either way, alcohol should be a fun addition to your Valentine's Day evening.
Sparkling cocktails are what come to mind when I think of drinking on the 14th. A well-made sparkling cocktail will make you and your partner smile after every sip.
The simplest way to enjoy a sparkling wine cocktail is any variation on the popular mimosa. The formula is a fruit juice or puree plus sparkling wine. So easy, it's laughable. Take kiwi, cactus pear or any in season fruit and puree them. Fill a champagne glass with sparkling wine, leaving two fingers at the top. Spoon the fruit puree into the glass very slowly to cut down on foam build-up. Top off with a little more sparkling wine if needed and enjoy.
Just to clarify, everything sparkling is called sparkling wine. A good California sparkling wine usually does the trick when making cocktails and the price point won't sink your bank account. Look for a Brut, which won't be sweet.
What cocktail do you recommend for those who will be spending the holiday solo?
I've spent many a Valentine's Day alone and nobody should feel bad about it. You can't rush love — but you can rush to the kitchen and make a great drink while you avoid the nightmarish dining experience that is Valentine's Day. Strong and simple is the key here and you can't get more strong and simple than an Old Fashioned done properly.
What is your best piece of advice for mixing up a romantic cocktail for a loved one?
Punch! Make a punch. It's easy, lasts all night and is super fun. Make sure you use the largest ice cubes possible. Why? Crushed, small ice = more surface area = faster dilution.
A punch is really just a large cocktail. Take a look at some punch recipes online and give one a try. Most can be made a day or two beforehand and even taste better that way, as the flavors have time to infuse together.
(Image credit: Mark Sexauer)
Kitchn supports our readers with carefully chosen product recommendations to improve life at home. You support us through our independently chosen links, many of which earn us a commission.