Maria's Small Yet Brilliant Milan Kitchen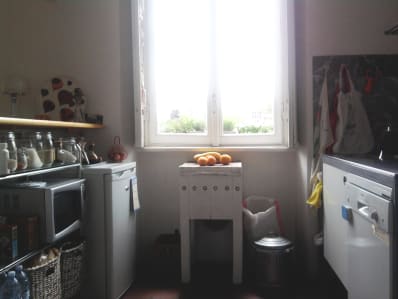 Who cooks here? Maria and her boyfriend
Location: Milan, Italy
Owned or rented? Rented
Kitchen size: 88 square feet
What challenge have you overcome in your kitchen? Biggest challenge: create a small room as a micro-laundry and place for cleaning stuff, since this is a no-closet house. We brilliantly completed the mission, by building our wooden box or "shower unit" as we call it.
Give Maria a THUMBS UP if you think this kitchen belongs in the finals!
Thumbs Up Voting is only activated for 48 Hours — so don't delay!
What's the story of your kitchen?
This is the kitchen no kitchen in the rented flat: it was empty as we came in except for the sink; we bought the essential, managing to reuse some pieces of furniture we already had and a bookcase as cupboard.
What is your favorite meal to cook here?
Soups during the winter, cocktails at aperitivo time.