A Few Things I've Done To Make Life Easier in the Kitchen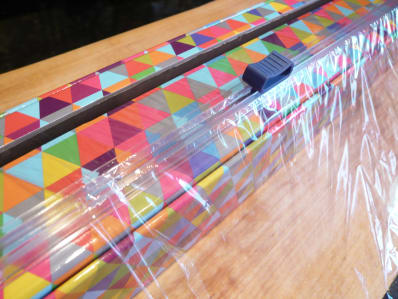 There's nothing I hate more than something that doesn't work well, and I've definitely been tormented by plastic wrap. Who hasn't? (Well, maybe a lot of people, but I'm not one of them.) The Kitchn Cure has me really looking at what's inconvenient about my kitchen, and how I can change it.
As you may have noticed, I'm pretty excited about my new ChicWrap dispenser. This stuff really works! And the zip cutter on top of the box is genius. The wrap itself is excellent. I tested it by holding the above cup of lemon slices upside down and shaking it, just like they did with a glass of red wine on their website. (I was not that brave. Also, I was drinking white wine.) Though I usually use reusable storage containers with lids, there are times when plastic wrap is the only way to go.
A while ago, I got a new set of measuring spoons that changed my life just by fitting into narrow-mouthed spice jars. I've done a few things this week to make my life in the kitchen easier:
Bought one more cutting board to replace one that had a crack in the middle
Arranged my casserole dishes to make the ones I use most easier to reach
Transferred the dog's food to a larger container, so I don't have to refill it as often
Made a small container for compost to keep under the sink (I was careful to keep it small, so I won't get lazy and leave it under there for too long.)
Removed some jars and bottles from the shelves around the stove to the pantry, so they won't fall on my head any more
Replaced a cracked crisper drawer in the fridge to make it much easier to open and close
What have you done for yourself to make things easier to use?
(Images: Anne Postic)