Making Pizza Dreams Come True: A Small, Fast, Portable Wood-Fired Pizza Oven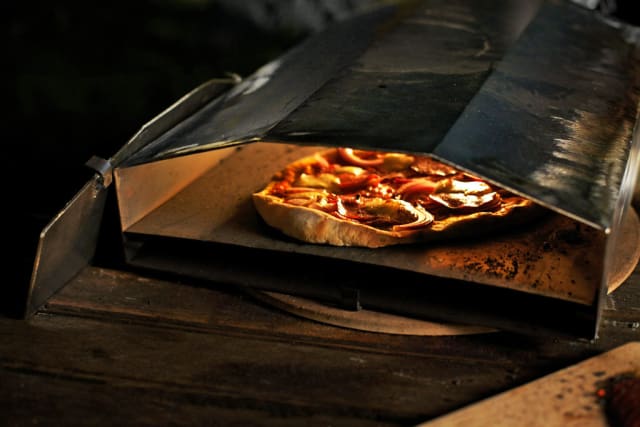 Get your gift lists out, people, because we're about to share a top contender for next year's holiday wishlists. It goes like this: Wood-fired pizza, made at home, in your own pizza oven. And no, you didn't have to build it in your backyard. In fact, this pizza oven is about the size of a carry-on suitcase (only much flatter), weighs 15 lbs, and makes crispy, blackened wood-smoked pizza in 3 minutes. Say hello to Uuni.
Cool Hunting called it "a realistic revelation for pizza enthusiasts everywhere," and that's exactly what it is. Designed by Kristian Tapaninaho, the small, portable Uuni is the home cook's answer to serious wood-fired pizza. The oven takes 20 minutes to heat up (using wood, of course), but it reaches temperatures of 600°F to 840°F, essential to creating the charred, chewy crust that makes wood-fired pizza so craveable.
Kristian raised funds for Unni on Kickstarter last fall, and plans to start shipping units this summer. It'll sell for £180.00, or about $280. Pre-orders should be available soon on the website.
Very curious to see how this develops over the next few months. If it's successful, I imagine the cost per unit will go even further once production is streamlined. Would you buy it?
Check out the websites → Uuni and the Kickstarter page
Related: Want Awesome Pizza? Turn Up the Oven
(Images: Uuni)