Mais Oui! Bonne Maman and Le Creuset's Mother's Day Brunch — and Giveaway!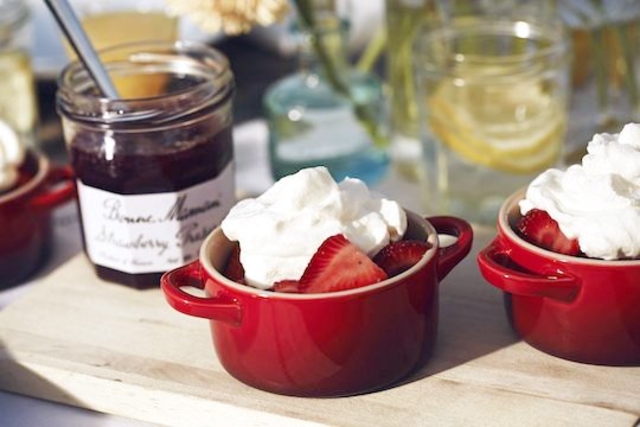 (Image credit: Le Creuset)
Your own bonne maman deserves an extra-special treat this Mother's Day, non? Classic French foodie brands Le Creuset and Bonne Maman think so — that's why they've teamed up to create the ultimate midday celebration, featuring the garden-fresh flavors of Bonne Maman preserves and the timelessly fashionable function of Le Creuset cookware. A peek at the recipes proves it: Between the ham biscuits with creamed collards and (hello!) bacon-berry preserves, the whimsical shrimp lollipops in orange-horseradish glaze and the sweet-tooth-satisfying strawberry orange mini-trifles, this is a year's worth of maternal mercis. (And a dreamy way to channel your inner Julia Child.)
Oh, and did we mention the sweepstakes?
Entering the Le Creuset and Bonne Maman giveaway — here!— couldn't be a simpler call: When you start with such time-honored French brands, you already know brunch is bound to be amazing — add the expertise of Charleston, S.C., Chef Robert Carter, and it only gets better. Watch their culinary creativity come together with delicious results:
Still hungry? Round out the meal with The Kitchn's very own French Toast and Preserves Skillet Casserole. Then head over to Bonne Maman to enter the sweepstakes, featuring mouthwatering prizes like Le Creuset pie birds, Bonne Maman preserves and, for one lucky winner, a culinary getaway to Charleston, S.C. Bon appetit indeed.