Look! Smoked Chocolate Chips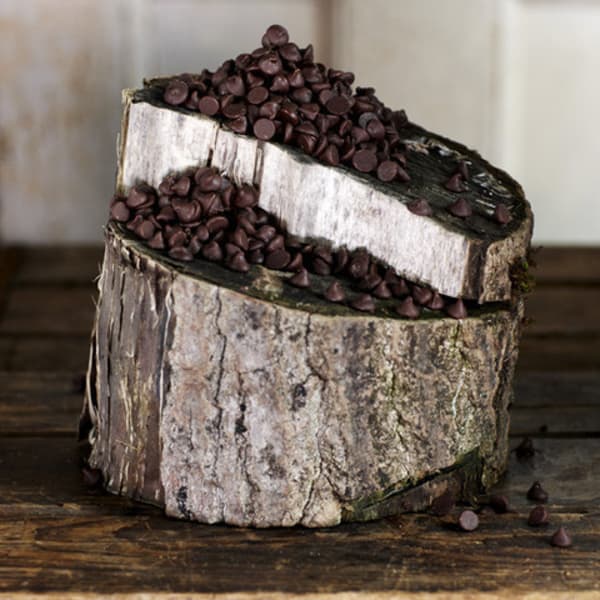 Sometimes killing time results in a wonderful discovery. This was the case a few weeks ago while waiting to meet a friend at the all-too-good chocolate cakery
Hot Cakes
in the Ballard neighborhood of Seattle. It was then and there that I made a dangerous discovery:
smoked chocolate chips.
Autumn Martin, owner of Hot Cakes, began selling her sweets in the farmers' markets here in Seattle and has since opened her charming storefront. She specializes in molton chocolate cakes in little jars — and, at this point in time, so many other confections and delights — but what stopped me in my tracks the other day were the samples of smoked chocolate chips by the register.
At first glance, they looked like regular chocolate chips. Nothing all that special. But then I tasted them, and the marriage of smoky Alder flavor and pure chocolate was surprising, and unforgettable.
How did this come about? Martin grew up in the Pacific Northwest around folks catching and smoking salmon and became enamored with the flavor early on. Since that time, she's developed a special method for cold-smoking the organic chocolate she uses in the shop: while heat is still involved, the process looks a lot different than traditional smoking. For the chocolate, alder chips are heated electrically and then smoke is siphoned into a tube which cools before pushing it into a container where the chocolate sits waiting. It cold-smokes for over ten hours, getting turned every 30 minutes or so to ensure it's smoked evenly.
I appreciate the innovation, time, and labor of love involved in making the product. And I appreciated each and every little chip I managed to sample while standing at the register.
But what to do with these chocolate chips? Cookies are an obvious go-to. Chocolate chip ice cream would be grand. Brownies would be equally grand. They have winter hot chocolate written all over them, and in the summer, deluxe trail mix or a quick afternoon snack.