Lauren's New Orleans-Style Vegan Muffuletta Quick Weeknight Meals Recipe Contest 2009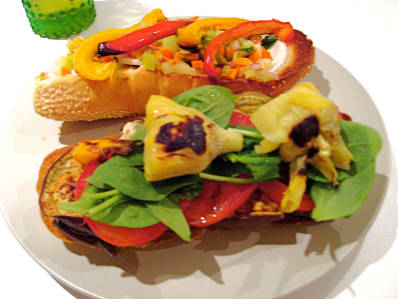 Recipe: New Orleans-Style Vegan Muffuletta
How long does it take?
Category: 35 minutes
Name: Lauren
Why is it a favorite meal? A scoop of heavenly olive salad jazzes up a run-of-the-mill roast veggie sandwich, plus lots of other quick weeknight dishes, like pizza and pasta.
New Orleans-Style Vegan Muffuletta
2 loaves Italian bread (or 1 large round loaf if you can find it)
1 eggplant
2 bell peppers
1 can artichoke hearts
1 tomato, sliced
½ cup spinach
Olive salad for garnish (Either purchased from your local Italian market or from the recipe that follows)
Salt and pepper to taste
Optional - 2 slices provolone or vegan cheese
Preheat the oven to 400°. Slice the eggplant into ½ inch thick slices and cut the bell peppers into thin strips. Arrange the eggplant slices onto a foil-lined pan, brush both sides with olive oil and sprinkle with salt and pepper. Arrange the pepper strips and artichoke hearts on a separate pan, and similarly brush with olive oil and add salt and pepper to taste. Put the eggplant in the oven. After 10 minutes, put the pepper and artichoke heart pan in the oven. Roast all veggies for 20 additional minutes, flipping the veggies with tongs halfway through cooking.
While the veggies are cooling, slice the bread and put the halves in the oven to toast. If you want cheese or vegan cheese, now is the time to add it. Let the bread toast and the cheese melt.
To assemble the sandwich, layer eggplant slices, roasted peppers and artichoke hearts, sliced tomatoes, spinach leaves, and last but definitely not least, a few heaping spoonfuls of olive salad.
Olive Salad
Makes LOTS.
1 21 oz jar green olives with pimentos
1 18 oz jar Giardiniera (mixed pickled vegetables)
1 18 oz. jar pepperocinis
2 carrots
1 red onion
6 stalks celery
1 cup parsley
10 sprigs oregano
6 cloves garlic
¼ cup olive oil
Salt and pepper to taste
Drain the jars of pickled vegetables, being sure to save the jars (you'll need them to store your salad) and some of the brine. Finely dice the jarred vegetables, fresh vegetables, parsley, oregano, and garlic. Mix together in a large bowl and add the olive oil and salt and pepper. Store the salad in the jars and add some of the brine. Keep in the fridge until needed, letting the flavors marinate.
Thanks Lauren, and good luck! Readers, give Lauren a thumbs up if you like this recipe!