Lauren Scott's Charming Petaluma Kitchen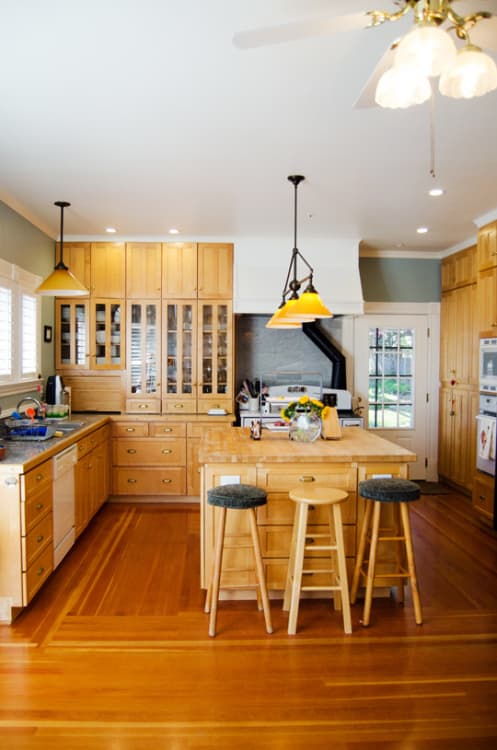 Lauren Scott has no trouble telling you how to find her Petaluma, California home. "It's the only one on the block that looks like a giant Easter egg," she says. She and her husband live in a big, pink Victorian-style house that can't be missed. When I arrived she welcomed me inside and showed me her kitchen. Little did I know I'd also get the chance to adore her beautiful, four-month-old baby girl and eat a delicious lunch she whipped up fresh from her garden. It was a good day.
Lauren and Alex Scott moved into what they describe as their "dream home" in 2009. The kitchen was a huge part of what they loved about it. It's bright and airy with vintage touches. A door leads out the side of the kitchen to the backyard, which has become home to a couple of laying hens, an impressive garden, and a fun, outside venue to host and cook for friends. Aside from tearing out some wallpaper and replacing it with a fresh coat of paint, the bones of their farmhouse-style California kitchen remain just like when they moved in. Being a total sucker for anything vintage, I instantly fell in love with their old-fashioned Wedgewood stove. We bonded over it immediately, as Lauren took the time to show me all of its compartments and how it used to burn real wood.

The rest of her kitchen is equally delightful. From the chalkboard-painted refrigerator, to the framed menus of their favorite restaurants, to the pretty, white kitchen table they scored at a flea market. Their kitchen is full of heart with a unique and comfortable homespun feel.
Lauren is something of a Renaissance woman. She is the friend you would call if you needed to borrow a radial arm saw or if you needed a five minute bread recipe. She has talents. In fact, I've heard her referred to as "The Secret Weapon" due to her innate ability to always have creative solutions and an endless supply of domestic know-how. She is a featured writer on the blog The Dabblist, where she shares some of her creative projects and gives us glimpses into her ever-evolving garden and cooking life. It was such a pleasure to spend the afternoon with her in the warm and welcoming space that she has created.
Thanks Lauren, for making me feel so at home!

10 Questions for Lauren (and Her Kitchen)
1. What inspires your kitchen and your cooking?
I always like the idea of a big, welcoming, farmhouse feeling to the kitchen, and that is what really inspires me. As far as the cooking, I think it's more about being in California — using fresh ingredients and growing what we can in the garden as well as coming up with new combinations that are fresh and seasonal. That's inspiring!

2. What is your favorite kitchen tool or element?
I have a mini food processor that I really like. It is such a pain to get out the big one and I like to be able to make just a little bit of something, like salad dressing or pesto. If I have to put it into the dishwasher I don't feel like it's taking up the whole thing. It just feels like less of an ordeal. I also really love our stove and having our island. There is no real counter space in the kitchen, but I have the island and that's all I really need.

3. What's the most memorable meal you've ever cooked in this kitchen?
We do a couple of really big dinners, maybe two a year. One is our Christmas party where we do a twenty person sit down dinner. We also do a dinner for Alex's clients, and we do that outside in the yard for about eighteen people. I would say the most memorable meal was for our Christmas party two years ago. I made Beef Wellington.

4. The biggest challenge in your kitchen:
The ovens are both small, so I can't fit most cookie sheets in them. The Wedgewood oven is actually bigger than our conventional oven, and I still can't fit a lot of baking sheets in there.

5. Is there anything you wish you had done differently?
Oh, wow. I could name thousands of things. I would love all of the knobs to be silver instead of gold and I would love to have a farmhouse sink. I would love to rip out the microwave and replace it with another oven. Alex says that's ridiculous, but I don't think it's ridiculous at all. Every once in a while when we need three ovens I like to remind him that it's a good idea. I also have this idea that we could have two dishwashers. He also thinks this is ridiculous. However, it would really be nice to have two dishwashers after one of our large parties.

6. Biggest indulgence or splurge in the kitchen:
Our espresso maker. We use it every day.

7. Is there anything you hope to add or improve in your kitchen?
It would be really nice to have a new fridge! When we moved in, the fridge that came with our kitchen had wood paneling on the front. I decided to paint over the wood paneling with chalkboard paint.

8. How would you describe your cooking style?
Hmm…I am trying to think how I can turn impromptu into an adjective. I don't know, I am just someone who likes to throw things together. I will sometimes look at recipes and get ideas of things that go together and just take it from there. I am big on ratios for some reason. I will often chop something up and not use all of it. For example, for lunch, I didn't use the whole apple in our salad. It seemed like it would have made it off balance.

9. Best cooking advice or tip you ever received:
I think maybe just to not be afraid and to try making anything. Just dive in and go for it.

10. What are you cooking this week?
Anything we can make with what is in our fridge before we leave on our trip to Costa Rica. I keep on wanting to make this mushroom pasta in a beef broth reduction with fried sage, but instead we have ordered pizza. Maybe when we get back from our vacation.

Resources of Note:
Oven: Wedgewood
Espresso Maker: Villaware
Books: Artisian Bread in Five Minutes a Day and Betty Crocker's Cookbook
Tea Kettle: Martha Stewart Collection
Glassware: Pottery Barn and Costco
Knives: JA Hencles
Table: Flea market find
Framed Menus : Frames from Ikea. Menus are from Dantesco in Argentina, Bouchon Restaurant in Yountville, CA and Commander's Palace in New Orleans.
Bakers Rack: Sur La Table
Thank you so much for letting us peek into your kitchen!
Share your own kitchen renovation or improvement!
We're always looking for real kitchens from real cooks.
Show us your kitchen here!
(Images: Gina Biancaniello)