Why Land O'Lakes CEO Beth Ford Drinks Chocolate Milk for Breakfast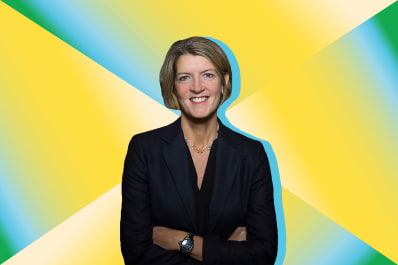 (Image credit: Land O'Lakes, Inc.)
Beth Ford is a powerhouse. In her 31-year career she's worked as a leader in many different industries (chemicals! Publishing!), and today it was announced that she's been named CEO and President of America's leading butter company: Land O'Lakes. Ford has worked at Land O'Lakes since 2011 and was previously the COO. She will assume her new position on August 1.
"I really have a passion for this business," Ford says of the company. "Enabling the farmer, feeding a growing population with fewer resources — it's meaningful work."
The truth is there aren't a lot of women in leadership positions in consumer package goods companies across America (but the ones who do exist are total rockstars), so Ford is a particularly refreshing face amongst her peers. And with Land O'Lakes' impressive 13.7 billion in revenue in 2017, it's safe to say she's doing big things. For example, last year under her guidance the dairy and agriculture cooperative acquired Vermont Creamery (you guys, their cheese is delicious).
I talked to Ford about the future of dairy, how the consumer's needs have changed, and what she eats (or I should say drinks) for breakfast.
How do you think the way we consume food in America has changed in the last decade?
So much has changed. More people are interested in what they're eating. People are willing to try new things — they're no longer brand loyalists. They're willing to pay for high-value products. I think they are also willing to research the different opportunities out there in the market and take a chance.
It's an exciting time for business and food productions. You have to innovate.
Land O'Lakes is farmer-owned. How is this beneficial for the consumer?
Consumers want transparency. They want authenticity in their products, they want to know the values of the company, and they want to know their operating practices. Because Land O'Lakes is farmer-owned, we're able to provide that. We're farm to fork and we know exactly how our ingredients are developed.
To really highlight that we're a co-op, we recently started putting photos of our farmers on our products.
Dairy sales are declining. How is Land O'Lakes meeting the market where it's going?
Land O'Lakes dairy business is actually performing quite well. The consumers are very focused on health and authenticity right now, and milk provides that. The real opportunity is to flaunt this fact. The decline you're talking about is mostly associated with drinking milk and exports. Yogurt and cheese are showing big strength in the market.
So, no plant-based products for now?
No.
Tell me about some of the new products you're excited about.
Last year we acquired Vermont Creamery, which is very exciting. They've won a bunch of awards since then and continue to excel. I'm also excited about our new squeezable butter, which is great for corn on the cob season.
There are not a lot of women in leadership positions at CPG companies. Do you see this shifting in the future?
As a percentage, women in leadership is definitely lower. This isn't just with CPG, however — it's every industry. I think we'd all like to see improvement in representation. I know a lot of very capable women.
Favorite thing to eat for breakfast?
You mean after coffee and I work out? Until recently I would eat a thing of yogurt, some oatmeal, or some fruit. Something healthy. But recently I've been drinking Fairlife chocolate milk in order to up my protein intake (it has 16 grams of protein). Then, mid-morning I usually eat a mozzarella stick, which has about six to eight grams of protein.
Interview has been edited for clarity.