Kristopher's Seared Char with Asian Kale Quick Weeknight Meals Recipe Contest 2009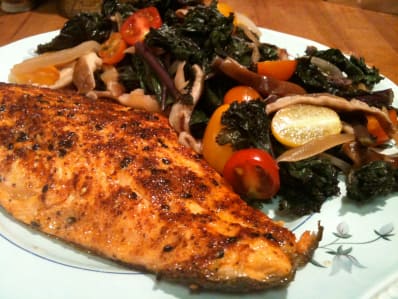 Recipe: Seared Char with Asian Kale
How long does it take? 20-25 minutes (depends on your prep speed)
Category: Omnivore
Name: Kristopher
Why is it a favorite meal? It's delicious, simple, and extremely satisfying.
Seared Char with Asian Kale
1lb Fish (I prefer fillets of Char, Salmon, or Tuna)
1 Bunch Kale (whichever you prefer: lacinato, green, purple, etc.)
1 Whole Yellow Onion sliced
1/2 lb Shitake Mushroom caps sliced (not everyone likes the stems. if you do, go for it.)
1/2 Pint Cherry / Grape Tomatoes halved
3 tbs Organic Salted Butter
1 tsp Fish Sauce
1 tsp Brown Rice Vinegar
1 tsp Toasted Sesame Oil
Nanami Togarashi (?) ***
-:-Pour a generous amount of the Nanami Togarashi on the fish. Rub in, very gently, with your fingers and set aside.
-:-Cut the onion in half and then thinly slice along the grain. Slice the shitake mushrooms caps into 1/4's (stems should cut very small as they are quite tough.) Cut the whole bunch of kale (after having removed the bottom inch of stem) from the bottom up. As you make your way from the lower stem to the upper leafy greens make wider and wider cuts. About a 1/4 inch if all stem, progressing toward an inch wide by the time you get to the top. Slice all cherry tomatoes in half and place aside.
-:-Heat a saute pan or wok on medium high heat with 1 Tbs butter and 1 Tbs toasted sesame oil. Wait until the pan becomes quite hot and the butter is starting to brown (it's easily burned, be vigilant). Then drop the onions in. Toss and turn for about 2 minutes. Don't play with them too much, but don't let them get charred. Then toss in the mushrooms. Turn the onions (as much as possible) on top of the mushrooms and leave the mushrooms alone. You are trying to get them to blister slightly, NOT get all moist and soggy. High heat is very important, along with leaving them alone.
-:-Turn on your broiler and place another pan on medium heat with 2tbs of Butter. Back to the other pan.
-:-Toss the Onions and Mushrooms, turn the heat down to medium, and toss it all with the Kale, 1tbs Fish Sauce, and 1 TBS Brown Rice Vinegar. Back to the other Pan.
-:-Take the fish and place it "face" down in the pan. Sear the top for about 1 minute then flip skin side down.
-:-During that minute be sure to toss the Kale twice and turn off the heat. Be sure to be vigilant of the Kale. It shouldn't get to wet, just wilted. Overdone leafy greens are dissappointing wet mush, flavorful or not.
-:-Cook the fish for another minute on the stove, then transfer to the broiler. All the while, baste the fish with the butter and fat in the pan. The time it takes to finish in the broiler is simply to one's taste and the size of the fillet. I insert the tines of a fork and twist slightly to see what it looks like inside. I like to fire it off for about two minutes, pulling it out to baste every 30 seconds. Plate when finished.
-:-In between the basting toss the Tomatoes with the Kale, Onions, and Mushrooms; and then plate.
* Enjoy a (reasonably) nutritious meal having used little more than two pans & a cutting board!
** I prefer all organic ingredients (they taste better....let alone the sustainable reasons to use them), but I'm sure you won't be disappointed either way.
*** Nanami Togarashi is an amazing combination of chili's, orange peel, black sesame, white sesame, japanese pepper, ginger, and seaweed. Available in almost any asian market ,and many conventional ones. Commonly served with japanese noodle soups.
Thanks Kristopher, and good luck! Readers, give Kristopher a thumbs up if you like this recipe!