Know of a Good Recipe for Baby Biscuits?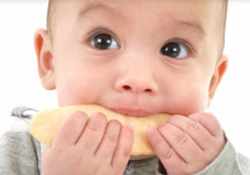 Q:
How do you make a light, crisp, homemade and dissolvable baby biscuit, similar to the Baby Mum-Mum variety? It needs to be gluten-free and eggless.
Sent by Mitra
Editor: Readers, do any of you make your own baby biscuits? Have a good recipe to recommend?
Related: The New Baby Taco Box
(Image: Mum Mums)