What's Your Meal-Planning IQ? Take This Quiz.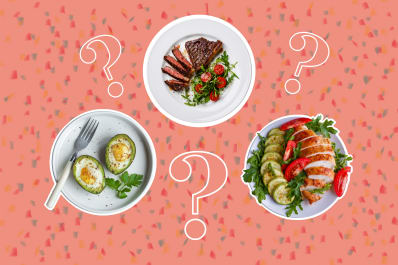 (Image credit: Shutterstock/Design: Susanna Hopler/Shutterstock)
A few times a year — usually right after the holidays and right before school starts — my meal planning system needs a refresh. It starts with a few too many weeks where groceries go underutilized or we find our takeout budget blown before the month's end. This happens to even the best meal planners during busy seasons or big life changes. When it does, I take a little self-inventory and revisit what I know and love about meal planning and what still needs some work.
Think of this quiz as a status check for yourself too — whether you're an expert meal planner who's just fallen off the wagon a bit or you're starting this whole endeavor from scratch, take this quiz to see what you know and where you can grow before you start meal planning.
How to Take This Quiz
This four-question quiz is quick and easy. Choose one answer for each question and make note of the number for each of your answers. Scroll down to find your personality based on your results.
What is the very first step in meal planning?
Preparing food for the week ahead.
2. Selecting recipes for the week.
3. Checking the calendar for events and obligations.
4. Taking stock of your pantry and fridge.
The answer: The Very First Step of Meal Planning Isn't What You Think
You choose recipes based on the following:
The number of leftovers they'll leave for lunches.
How much your family loves them.
How fast they are for busy weeknights.
All of the above, plus how well they use up pantry ingredients.
At the grocery store, do you ...
Have a general list of staples you can turn into many meals?
Organize your list by area?
Choose shortcuts to get shopping and dinner done faster?
Have a full belly, a grocery list, and your favorite reusable bags?
Read more: 5 Expert Meal Planners Share Their Grocery Shopping Secrets
Finally, what meal planning step do you love the most?
Meal prepping — chopping and whisking soothes the Sunday Blues.
Pinning and saving recipes that you hope to make each week.
Getting out of the grocery store with everything on my list in record time.
The ability to easily repeat the same stress-free success each week.
Answers
Mostly Ones: Meal Prep Master
You're more of a meal prepper than a meal planner, because you don't want to commit to a dinner on Sunday that you might not want to eat on Tuesday. You make the most of meal planning time by batch cooking meal components on the weekend for easy assembly each week. But you occasionally you find yourself bored with roasted vegetables and chicken breast, so you need a new recipe to try in the mix.
Give this a try!
While we agree that meal prep can be a form of meal planning, might we suggest giving micro meal planning a try? By adding just one planned recipe each week, you can skip falling into a meal prep rut with little commitment!
Mostly Twos: The Recipe-Lover
You clearly understand the basics of meal planning even if your best intentions aren't falling into place each week. You probably find yourself still wasting food each week and your pantry growing at an alarming rate. Fear not! These are easy problems with easy solutions.
Give this a try!
Check your pantry and fridge each week before selecting your recipes. Use up what you've got on hand for new recipes and make sure you've got ingredients on hand for a few go-to dinners. Select just one brand-new recipe a week — this will reduce waste (and your grocery budget) while adding flexibility without boredom.
Need more help? 5 Strategies for Picking Recipes for a Week of Meal Planning
Mostly Threes: The Busy, Type-A Meal Planner
Meal planning is merely your tool for making dinner happen every night and you loathe grocery shopping. You meal plan even when you're on vacation. Did you mention you hate grocery shopping?
Give this a try!
First, make grocery shopping more enjoyable by creating a ritual around it. Find a less-busy weeknight to go and treat yourself to dinner beforehand. Maybe invest in a few reusable grocery bags, too. Secondly, shift some of your meal-planning regimen to meal prepping by adding an hour of chopping, whisking, and just plain cooking to your week; it will help reduce stress and give more flexibility to be creative with dinners during the week.

Read more: 10 Tips for a Happier Trip to the Grocery Store
Mostly Fours: A Meal-Planning Master in the Making
You have a system for meal planning, shopping, and meal prep that brings you joy and actually makes weeknight cooking enjoyable. But big life changes (that new baby, the holidays, even vacation) occasionally throw you off the meal-planning wagon.
Give this a try!
Start a meal plan club of your very own with friends or family. This can be as simple as texting your BFF on Friday and asking "What's on next week's meal plan?" or as elaborate as starting a Facebook group for like-minded friends. You can be inspired and probably help out your people, and they can support you with ideas and inspiration when you hit a snag.
Restart right here: How I Got Back on the Meal-Planning Wagon
Meal Plan Club with Kitchn
Meal Plan Club is our self-paced 4-week program full of educational posts, downloadable tools, and real-life sample meal plans where we'll walk you through each step of meal planning — from choosing recipes to meal prep and actually executing each meal — to make you a more confident meal planner in just one month. You can follow along here!