Here's What Kitchn Editors Have on Their Holiday Wish Lists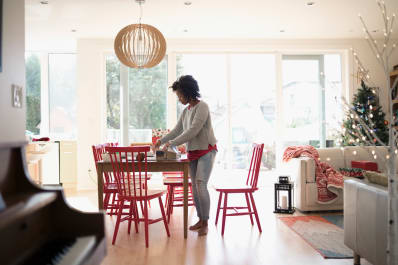 (Image credit: Hero Images/Getty Images)
Because the editors here at Kitchn get a healthy dose of kitchen inspiration every day, we basically work on our wish lists all year long. Whether it's a cool new tool we see at a trade show, an ingredient we sample, a beautiful dish we use for a photoshoot, or something else, we see a lot of stuff we end up wanting. Sometimes, even on a weekly basis.
This list can serve three purposes: It can help you add to your own wish list, it can give you ideas for the person on your list who's hardest to shop for, and it can serve as a super subtle attempt at telling our loved ones what we want for the holidays.
"What I REALLY want is a beautiful new oven to pull this out of. Since I'm stuck with my 20-year-old appliance, this seems like a decent compromise. Right?! I'm just obsessed with its good looks and charm!" — Lisa Freedman, Lifestyle Director
"Right before we moved out of the city last winter, my husband and I went to the bar at Union Square Cafe. His cocktail was served in this glass and I couldn't stop staring at it the whole night. I love how vintage and delicate these glasses look and have been wanting to add them to my bar cart ever since." — Sheela Prakash, Associate Food Editor
"I am a huge fan of this brand (I have one of their linen shirts and it is so soft and comfy!) and have been eyeing their beautiful tablecloths. I'd love to put this beige one on my dining room table whenever I entertain — and some napkins (in canyon clay) to go with it wouldn't hurt!." — Lauren Kodiak, Managing Editor
"I've fought the urge to buy one of these milk wands for so long, but since I've recently started to drink matcha in the afternoon, I need it. It will make my kids' hot cocoa easier, too! I also have Nielsen-Massey Rose Water on my list. I love the brand's vanilla and peppermint extract, so I'm hoping the rose water is an upgrade on the bottle I bought at an international market, like, 10 years ago that's almost empty. I use rose water for occasional baking projects (meringues and baklava) and I also use it to make a refreshing toner for my face! " — Meghan Splawn, Associate Food Editor
"I first learned about this fancy honey from my friend, who happens to be a beauty editor, and my world was changed forever. Apparently this stuff works wonders for your face (???), but all I've done so far with this honey is eat it. I don't like the taste of grocery store honey in a bear, but this kind is so good that I sometimes take a spoon to it. I always get sick around the holidays and this honey is my secret weapon!" — Lauren Masur, Staff Writer
"I just moved across the country to LA, and once we are finally settled, I'm thinking we are going to need one of these bad boys. Plus I've seen it on sale a lot around the holidays! When I wrote this, it was down to $350!" — Ariel Knutson, News & Culture Editor
7. Gigone Tumblers, $22 for six at Williams Sonoma
"These versatile glasses work with every type of place setting — whether you're hosting brunch or eating cereal for dinner — which is why so many restaurants use them as water cups. I'd use them for water, OJ, and wine — should I be lucky enough to receive them this year." — Grace Elkus, Senior Food Editor
"I would love a set of dishes from East Fork Pottery. Just look at how dreamy their breakfast bowl, dinner plate, and side plates are."— Kelli Foster, Associate Food Editor
Kitchn supports our readers with carefully chosen product recommendations to improve life at home. You support us through our independently chosen links, many of which earn us a commission.