KitchenIQ (Formerly Edgeware) Better Zester: The Best Citrus Zester Ever!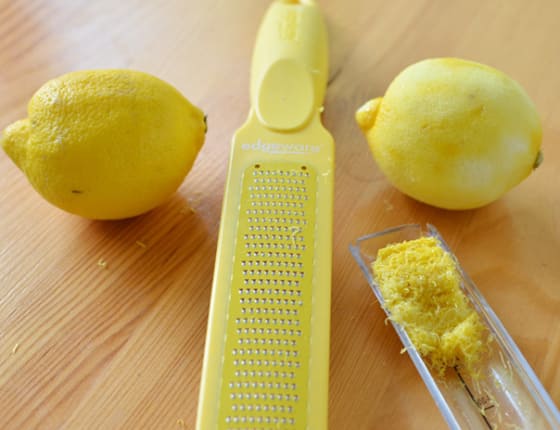 Item: KitchenIQ Better Zester (formerly known as Edgeware)
Price: $14.95
Overall Impression: Pretty much the perfect citrus zester.
I use citrus zest constantly; very few cooking sessions go by in my kitchen without me reaching for my citrus zester at least once. Well, last year at the Housewares show in Chicago I saw a fantastic new zester that had some small but well-designed improvements that won my heart.
The Review
Characteristics and Specs: The KitchenIQ zester has a couple of unique aspects: Its little zester teeth are coated with a food-safe nonstick coating, similar to the popular brightly-colored Kuhn Rikon knives. Also, it has a plastic attachment on the back that catches all the zest.
Favorite details: Where to start? This zester is, to me, practically perfect in nearly every way. The nonstick coating means that the lemon glides easily over the zester; the first time I used it I thought it wasn't doing anything at all, until I looked down and saw I was holding a nearly naked lemon. It just takes the best and most flavorful part of the zest (and all of it! I feel like I get so much zest off a lemon with this), leaving the bitter pith behind, giving you fine and beautifully fragrant citrus zest. It also shaves perfectly into the zest catcher, with no stray bits flying all over your counter.
Where this really shines, though, is in that zest catcher. It has measurement markings, so you can shake the zest into the bottom and see how much you've collected so far. Then, when you're ready to get your zest, you can slide the zest catcher off and it sort of squeegees everything off the zester, leaving you with clean blades and all the zest neatly caught in the little attachment. Works perfectly, every time.

Potential problems: This zester isn't completely perfect, though, I must admit. It is very specific to lemon zest; it's built so well for lemon and other citrus zesting that honestly I wouldn't ever use it for Parmesan or chocolate or other foods that need to be finely grated. This unitasking aspect might bother some people, and motivate them to use a more all-purpose zester like the Microplane fine zester (I use one of those too). But I use citrus zest so frequently and in such volume that having a specific tool perfect for that purpose is valuable to me.
Another small criticism: The plastic guard on the back feels cheap and a little clunky; it's hard to slide on and off. The price point on this zester is low, and while I love all its features and its functionality, you do see the lower price in its design and materials.
And finally: This zester is great ergonomically; it's angled a bit which really works better when zesting fruit. It's more comfortable and more effective. But this means it doesn't lie flat in a drawer, and it does take up a bit more space. This doesn't bother me at all, but if you're short on drawer space, or your drawers are shallow, it may be a problem.
That's the scoop! I have been using this zester for about a year, and while I know it's a small tool to get so happy about, I just geek out over it every single time I use it.
Find It! KitchenIQ Better Zester (formerly known as Edgeware), $14.95 - Currently available in green and charcoal, but the yellow one seen here will be available shortly.

Related: The Best Zester Ever? New Graters from Edgeware
(Images: Faith Durand)
Apartment Therapy Media makes every effort to test and review products fairly and transparently. The views expressed in this review are the personal views of the reviewer and this particular product review was not sponsored or paid for in any way by the manufacturer or an agent working on their behalf. However, the manufacturer did give us the product for testing and review purposes.
Kitchn supports our readers with carefully chosen product recommendations to improve life at home. You support us through our independently chosen links, many of which earn us a commission.