This Teeny Kitchen Got Transformed with a Tiny $200 Budget
We independently select these products—if you buy from one of our links, we may earn a commission. All prices were accurate at the time of publishing.
In the hunt for the perfect apartment — one that's located where you want and doesn't cost an arm and a leg — you sometimes have to make sacrifices. For Kimberly's search in Philadelphia, she was willing to settle for a small "kitchen" because she doesn't cook all that often. But she wasn't going to settle on it being boring and beige.
Her quick, contemporary makeover of the kitchenette in her new living room is totally cute and affordable — and we've got the resources you can buy to use these ideas in your own small kitchen!
From Kimberly: "When looking for an affordable apartment in one of Philadelphia's most sought after historical districts, I knew I was going to have to make some sacrifices. As someone who cooks very little, a small kitchen was not at all a deal breaker. As such, I scored big time with a cute tiny apartment in the exact location of my choosing, which happened to fit my rent requirements due to its dated, hideous kitchenette. With only a $200 budget, I painted the cabinets, added a faux backsplash, purchased an island for added counter space and storage, a new bright rug to complement the neutral kitchen, and a fun cookie jar to add to the new look. I have transformed this eyesore into a conversation piece."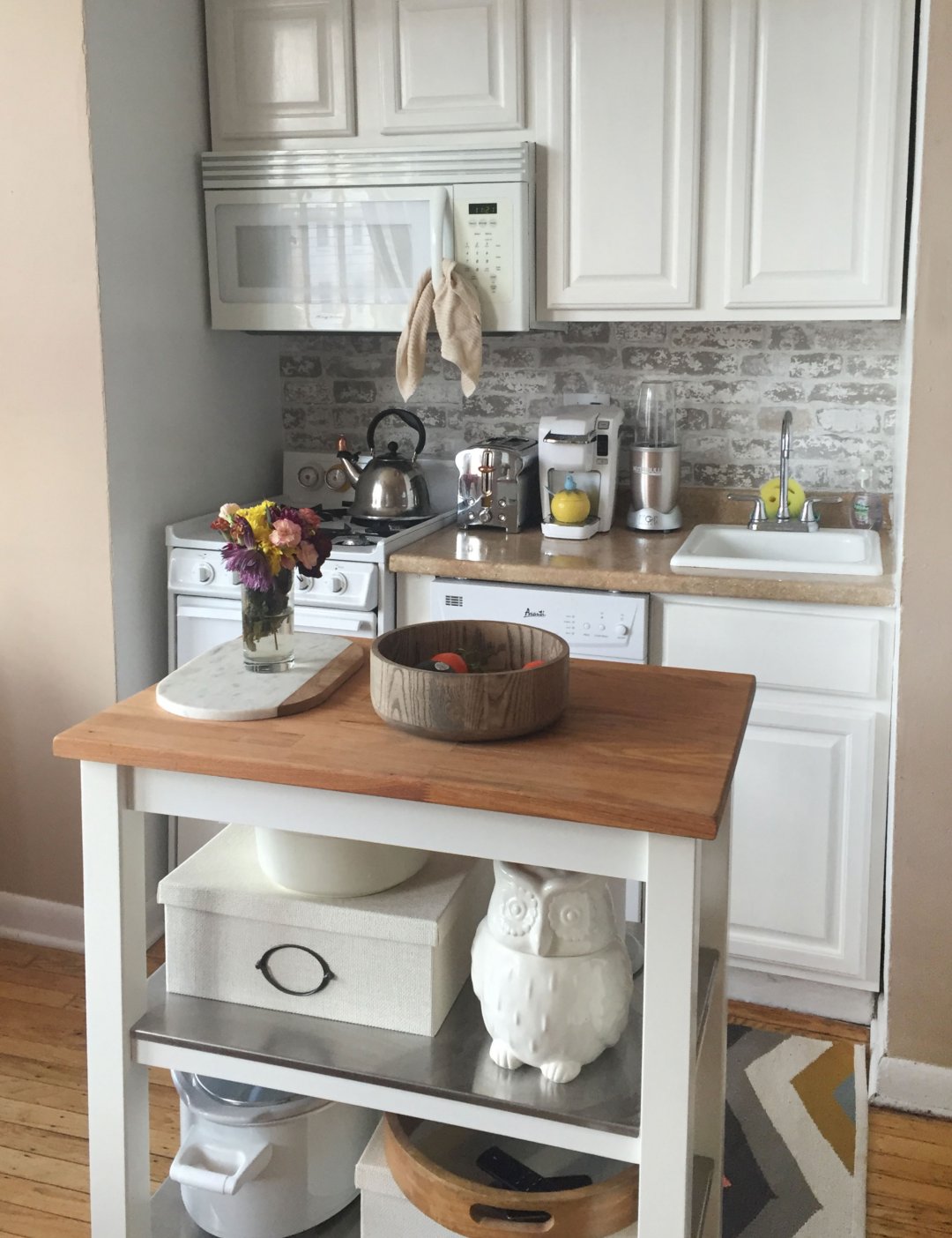 The paint Kimberly used on the cabinets is Sherwin-Williams Interior Quali-Kote in Extra White.
"This is a commercial grade paint that needs to be asked for 'behind the counter.' I got this from my apartment basement, as they use this to repaint apartments when a tenant moves out. The high-quality commercial grade did not smell and sat well on top of cabinets. I did not sand or prime due to laziness."
More on Painting Kitchen Cabinets
Want More?
Get the Kitchn Daily in your inbox.