Kitchen Visit: Julie's Light-Filled Eat-In Corner Calgary, Canada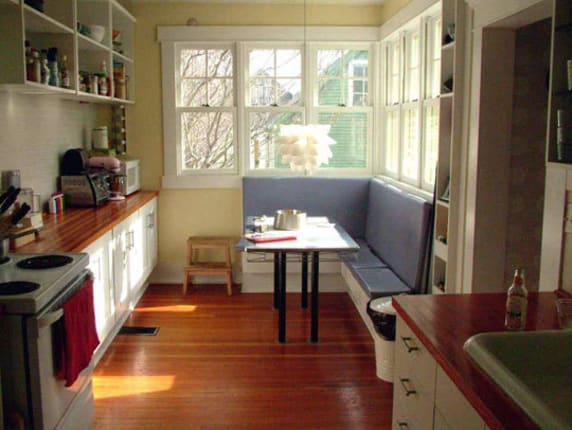 We received this lovely, light-filled kitchen from Julie Van Rosendaal, a food writer, researcher, cook, and mother in Calgary, and we are so happy to share it with you just before the weekend begins. Julie says, "I have a relatively small but long, sunny, charismatic kitchen. A lot goes on there. I write, teach, and talk about food for a living, so people always assume I have a massive restaurant-style kitchen with lots of stainless and granite, but as soon as they see my kitchen, they love it."
We love it too! Read on to see more of Julie's kitchen, hear about where she sourced those countertops (science labs were involved!) and to see more of the little touches that make this kitchen such a lovely place to cook.
Kitchen Q&A
1. What's your cooking style?
Casual, experimental. I like to cook as well as bake but meals tend to be the one-dish variety (pad Thai, lentil soup, pizza, chili over a baked potato) rather than meat, starch and veg. Although we're carnivores, we eat more legumes than red meat. I've been a messy cook since I was a kid - I can't seem to shake it. And I can't follow a recipe to the letter.
Although I'm a butter enthusiast, I am fairly health-conscious - I lost 165 pounds (about half my weight) by learning how to make all my favourite foods healthier, and with less fat, so I generally tweak recipes to make them a little better for us. I sneak ground flax into a lot of things - I've totally turned into my dad, who in the 80s snuck oat bran into everything.
2. What inspires your kitchen?
People. Whether they are in the kitchen with me or just visiting via my blog, food just connects people like nothing else does. I do love to have a house overflowing with people though - totally casually - crammed into the nook, nibbling food straight out of the oven or pot, spilling out onto the patio.
I'd have to say hunger is also very inspiring. I have also been a (very willing) dumping ground as of late for peoples' old collections of cooking magazines, which I've found a lot of inspiration in. I'm always interested in what other people eat - the late Laurie Colwin once wrote something along the lines of, "It isn't just the great works of mankind that make a culture, it's the small things, like what we eat every day and how we prepare it." I'm always mindful of the role food plays in our daily lives.
3. What is your favorite kitchen tool or element?
I love the nook; the table was in my friend Allison's grandmother's house for her lifetime, and is now bolted down to my floor. I also really love my windows, and sink, although I do miss having a garborator.
I couldn't live without spatulas, my microplane grater and hand-held immersion blender, but my absolute favourite kitchen tools are my Grandma's metal measuring cups, one which was actually repaired by my Grandad. Who does that anymore? And her pastry cutter, and handwritten recipes on cards and paper scraps, which I keep meaning to get framed. I also have a digestive tract made out of sequins (it's art).
4. Best cooking advice or tip you ever received:
Clean as you go. It's advice I don't necessarily follow. In a conversation with Barbara Kingsolver (I was chatting with her for a story) she pointed out that people have a very juvenile approach to deciding what's for dinner - people tend to ponder what they're in the mood for, rather than what they already have and what's in season. So I do try to approach my mealtime decisions that way - really, most people have enough stashed in their pantries to live off for weeks! and I hate wasting food.
5. Biggest challenge in your kitchen:
Navigating a 3-year-old and a 90-pound dog, both constantly underfoot. Of course that's part of the charm of it, but tonight while making dinner, my 3-year-old sawed through the edge of the countertop at 1-inch intervals with the serrated edge of the barbecue flipper, then fed a $16 chunk of Parmesan to the dog. It's also sometimes tough to wash splatters off the subway-style tile on the backsplash, but I love it.
6. Biggest indulgence:
Maple syrup from Quebec, really good cheese, Bernard Callebaut chocolate (it's not the same as just plain Callebaut chocolate!), locally raised bison and lamb.
7. Dream tool or splurge:
I really REALLY need a new oven. The one here is electric, and I need to go gas. But the one I want is quite expensive, and things like a new washer and dryer, furnace, roof repair, and car repairs keep taking precedence! I'd also love to install a wood-burning oven in the back yard. And a trip to Paris, please. And Italy, while I'm over there. In the name of research?
8. What are you cooking this week?
I'm really into baby spinach sauteed in olive oil with garlic this week. Once the spinach is wilted I crack an egg into the oily puddle and cook it over easy, then sprinkle the lot with Maldon salt and eat with toasted crusty no-knead bread, buttered of course. For breakfast every morning I've been having porridge made with half oatmeal, half barley flakes - you can't tell the difference, flavour-wise, and the barley just makes it slightly chewier, which I love. And barley has more than 3 times the fiber of oats!
I'm also working my way through a batch of black bean soup, and earlier in the week I made a rhubarb-chilie marinated pork tenderloin over noodles, inspired by a recipe in Jamie Oliver at Home (one of the most beautiful cookbooks I've seen) for a radio show, and it was so well received (even at 8 in the morning) I am totally making it again for us.
I've also made panini, frittata, maple-rosemary pork ribs and coconut cream cake. This weekend I have my heart set on a pan of Katharine Hepburn's brownies. Maybe I'll make my grandma's brownie recipe too, and do a taste test. Just, you know, for research purposes.
9. What cookbook has inspired you the most?
That's a tough one - there are so many great cookbooks out there! I'd have to say in terms of inspiration, the original Canadian Living Cookbook with the blue cover was my very first cookbook that was all mine, and I learned to make a lot of things out of it. It still has the best basic cheesecake recipe.
I'm also a huge fan of Laurie Colwin's books - Home Cooking and More Home Cooking, which aren't cookbooks per se, but do have recipes scattered through. I can read them over and over, and they always make me happy. Molly Wizenberg's new book A Homemade Life is doing the same thing. I love that both include the connection between life and recipes.
10. What's the most memorable meal you've ever cooked in this kitchen?
I figured out how to make corn dogs and mini donuts one summer and was a superhero to all who attended our party - it was high summer, so all the windows were open, and everyone came and went in a perfect stream.. We had a big tub of drinks on ice outside, people hung out on the patio and in the yard under our apple tree filled with white Christmas lights, and the corn dogs and mini donuts never had a chance to cool down - I stood by the oven and chatted and sent out piles of corn dogs on paper-towel-lined platters, and people ate the mini donuts straight out of the dish of cinnamon sugar.
Then my 10-year-old niece and I started deep frying everything we could find - mini chocolate bars, marshmallows (all dipped in corn batter) - all which looked roughly the same once battered and fried. It certainly wasn't the healthiest nor classiest meal, but it was memorable.
Favorite Kitchen Resources & Features
I love that most elements of the kitchen have been salvaged.
• The old window over the stove, the sink, the wooden countertops that came from the old University of Calgary science lab - who knows how many frogs were dissected on them before I started using them to roll out cookie dough? It was renovated before we bought it by friends of ours - he's a world renowned architect, she an artist, and they did a great job!


• The table in our corner booth is from my friend's grandmother's kitchen (she used to own the house). It is always jammed with friends/family/kids.

• And my oven is an old GE workhorse.. my fridge is a KitchenAid passed down from my parents... my food processor is a basic/classic Cuisinart - a brand I'm very loyal to in the food processor department! There truly is no better in my books!

• It has open shelving, which I love - it means the charming old glass Mason jars of beans go up there and the Doritos get hidden in the bottom cupboards.

• The sink and old brass tap fixtures (which drip incessantly but I love them too much to get rid of them) were salvaged from an old farmhouse.

• The windows open up to the patio outside, so during the summer we don't feel like we're separated from the rest of the party when we're in the kitchen - people just spill in and out.
One day my 3-year-old and I were sitting in the nook eating breakfast, watching the sparrows outside eating their breakfast from the bird feeder, when a hawk swooped down and grabbed one of them, then devoured it on the roof of the playhouse (guess he was having his breakfast).
It's a great kitchen!
We agree! Thank you so much for sharing your kitchen, Julie.
• Visit Julie's website! Dinner With Julie
• Try a recipe from Julie: Sesame Noodles with Pork, Peppered Popcorn with Parmesan, or Creamy Coconut Cake...
(Images: Julie Van Rosendaal)