Kitchen Tour: Ragdale House Travels Through Time Lake Forest, Illinois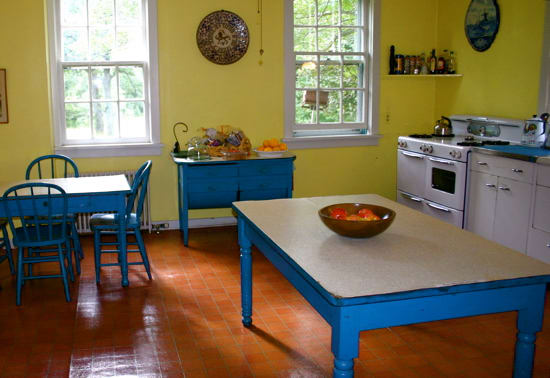 On entering the kitchen of Ragdale House in Lake Forest, Illinois, you might have the peculiar sensation of traveling through time. With its cheery buttercup-yellow walls and peacock-blue painted farmhouse furniture, vintage stove, and generous porcelain sink, this homey kitchen might first appear to belong to a family from the early part of the last century.
Step in a little further, though, and you'll notice the drawers and cupboards have all been clearly labeled in bold black type: "Coffee Carafes & Tupperware," "Foil & Plastic Wrap," "Cereal & Snacks." You'll see a dishwasher, microwave oven, plates and mugs from Crate & Barrel and Target, as well as a very 21st-Century assortment of convenience foods.
What's going on?
Originally the family home of the American architect Howard Van Doren Shaw, for the last 32 years, this lovingly maintained historic site has found a new life as a working retreat for artists. Rather than roping off the rooms museum-exhibit style, the foundation that now cares for the property has kept the soul of the house alive by making sure it continues to enjoy day-to-day, hands-on use.
I was fortunate enough to spend a few weeks there earlier this month, and especially liked taking a few minutes out of each day to fix myself fried eggs, tomato sandwiches, and late-night cups of mint tea in this stunning Arts and Crafts style house's 1909/2008 kitchen.
And I'll admit I also had a lot of fun exploring the room's many cupboards and drawers. Because this kitchen has been in steady use for close to a century, it's a treasure trove of accumulated culinary artifacts, not just from 1909 (the house was built 1897, but the kitchen was completed later) and 2008, but from the many distinctively stylish decades between. Poking around a bit I found:
Rusted old farm implements dug up on the property
A "flour and sugar" table with built-in bins from the 1900s (top photo, center)
A pair of enormous Delft plaques brought over from Holland in the 1900s
A gas stove by the old-time maker "KALAMAZOO"
Cookbooks from the 1930s, 40s, and 50s
A wall-mounted mid-century ice crusher for making cocktails (I gave it a test-drive and it still works!)
Vintage porcelain pie vents
A Hall teapot from the 1950s
A modern fridge, dishwasher, microwave, toaster oven, and coffee maker (see Slideshow for photos and more...)
Next door to the kitchen is a beautiful trellised dining porch that brings a little of the outside in. The center table, painted a striking soft blue-green shade, is the perfect place to enjoy a sunlit breakfast. With its large windows overlooking the neighboring prairie, and its small window looking directly into the kitchen, it's a tranquil spot that still feels very much at the center of things.
Along with its prairie views, the property also boasts its own lush gardens with richly fertile soil that have helped feed the house's many generations of residents for close to a century. There's an orchard filled with gnarled old apple and pear trees, a bed of twisting grape vines, wild blackberry bushes, as well as an assortment of vegetables (tomatoes, potatoes, zucchini, beets, peppers, beans...) and herbs (basil, mint, oregano...) that Ragdale's chef extraordinaire, Linda Williams, harvests regularly for the residents' communal dinners.
Future plans for the kitchen? Committed to keeping the look of the house intact, the Ragdale Foundation hopes to make some invisible but necessary changes to the infrastructure hidden within its lath and plaster walls. While antique fixtures hold a graceful charm, antique pipes and wires come with serious drawbacks - and potential hazards. The foundation is currently fundraising to bring the house's plumbing and electrical systems up to 21st-Century standards.
Related: Robert and Elizabeth's Soulful Sterling Place
(All images: Nora Maynard)