Kitchen Tour: Rachel's Clinton Hill Coincidence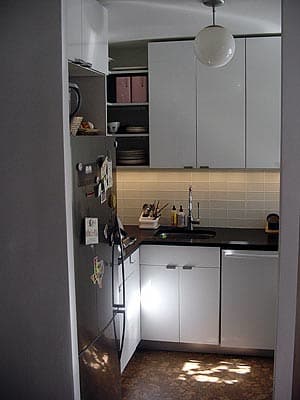 Rachel and Timothy's kitchen was just completed (too late for the contest unfortunately!) but they wrote us with a coincidence.
Rachel says:
I know we are too late to make it into the contest (we just finished our punchlist on Wednesday) but I had to send in some pictures of our kitchen after seeing the pictures of #11: Morgan's Natural Patterns. We have the exact same kitchen layout - we must both live in the Clinton Hill Coops! I thought it might be cool to see how two identical spaces were recreated so differently.
We thought so too - read on for more pics and info about their kitchen...
Randomly, we also have a cork floor, but in a different pattern. I tried to take the photos from the same angles, for better comparison.

I have spent a LOT of time on AT: New York and love The Kitchen. Our kitchen was inspired by kitchens we saw, particularly the corner shelves (Orange Crush and the kitchen with the birch tree wallpaper). We ordered the sink and faucet online (Homeclick.com), the light from eBay (vintage), the appliances from Levi (great experience and super cheap) and the floor from Aronson's. The cabinets are IKEA Abstrakt White, the countertop is black honed granite (purchased from Marmo in NJ), and the cabinet pulls are from Simon's Hardware.
The fridge, floor and faucet are my favorite things. Crisp veggies, comfy floor to stand on, and a faucet you can control with your wrist when your hands are full of chicken gunk. The kitchen is super functional, but I also love just looking at it! Probably more info than you needed, but the thrill of a newly completed space still hasn't worn off.
- Rachel