Kitchen Tour: Josh & Maria's Pristine Renovation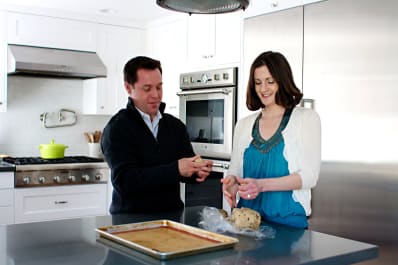 We have the deepest admiration for cooks who remodel their own kitchens. The mess, the dust, the terrifying tangles of pipes and wires — it looks like a traumatic process. But when that process turns out a kitchen as stunningly beautiful and pristine as Josh and Maria's — well, it's downright amazing. Josh and Maria (of the food blog Two Peas and Their Pod) live in Salt Lake City, and with just a little help, Josh took this kitchen from plain and dated to sleek and white. Read on for before photos, and more!

Josh and Maria's kitchen, before remodel.
Josh and Maria are avid cooks, and when they moved into their home, they knew that they wanted to make the kitchen into a place that was more inviting for them as cooks and for their guests. They did quite a bit of work: They ripped out a wall to open the kitchen to the dining room, and they even moved a staircase so that the space could be opened up. They installed new appliances and new cabinets, and added French doors and new windows.
The process was long and laborious, especially since Josh did most of the work, with help from family. But look at the results! Maria says that she still gets goosebumps when she looks at the kitchen, and we can't blame her!
This is a wonderful kitchen, not too big and not too small, and so clean and bright. Great job, Josh and Maria!
• Visit Josh & Maria's blog: Two Peas and Their Pod

After remodel. Quite a difference!
10 Questions for Josh & Maria (and Their Kitchen)
1. What inspires your kitchen and your cooking?
Our kitchen and dining area are the heart and soul of our home. We wanted to create an inviting atmosphere for not only ourselves, but for our friends, family, and guests.
2. What is your favorite kitchen tool or element?
Josh really likes the six burner range top, while I really enjoy having two ovens. I can bake a massive amount of cookies in no time.
3. What's the most memorable meal you've ever cooked in this kitchen?
Shortly after we finished the kitchen, we cooked eight large hams for our neighborhood Christmas party. We were able to cook 80 pounds of ham at once. We put four hams in the top oven and four in the bottom oven. We are happy we could help with the neighborhood dinner. We want to always share our kitchen with others.
4. Is there anything you wish you had done differently?
So far, we are pleased with everything. Josh did most of the labor and wishes we would have hired it out, but it did save us a lot of money. We also appreciate the kitchen more because of all of our hard work!
5. The biggest challenge in your kitchen:
We wish we had room for a large walk-in pantry.
6. Biggest indulgence or splurge in the kitchen:
We splurged on the flat screen television on our dining room wall. We are big sports fan and didn't want to miss a game while cooking in our kitchen.
7. How would you describe your cooking style?
Our cooking style is very laid back. We like experimenting with new foods, flavors, and techniques. My father taught me how to cook and bake at a young age, so I am very comfortable in the kitchen. I am glad Josh shares my passion for food and cooking because we make a great team. Our kitchen is our playground.
8. Best cooking advice or tip you ever received:
Practice makes perfect. You don't have to be a world famous chef to create a delicious meal in the kitchen. Start with the basics and work your way up. Simple food is good food. We believe that everyone can cook, you just have to try.
9. What cookbook has inspired you the most?
Baking From My Home to Yours by Dorie Greenspan. We love the recipes, stories, and Ms. Greenspan. She is an inspiration to cooks and bakers all over the world.
10. What are you cooking this week?
This week we are making homemade pizza — half veggie for me and half pepperoni for Josh. We are also going to make a big pot of Black Bean and Mango Tostadas. For dessert, we will be baking a batch of Lemon Raspberry Bars.

Josh and Maria, with a cookie (and the charcoal accent wall in the background).
Resources
• Thermador appliances
• Caeserstone countertops
• Peppertree cabinets
• Farm table made by Patrick Davis
• Kichler pendant lighting
• Franke faucet and sink
Thank you so much for letting us peek into your kitchen, Josh and Maria!
• Visit Josh & Maria's blog: Two Peas and Their Pod
(Images: Photographs by Josh & Maria and by Janey Jessen)