Kitchen Tour: Jessica's Soulful Rental Kitchen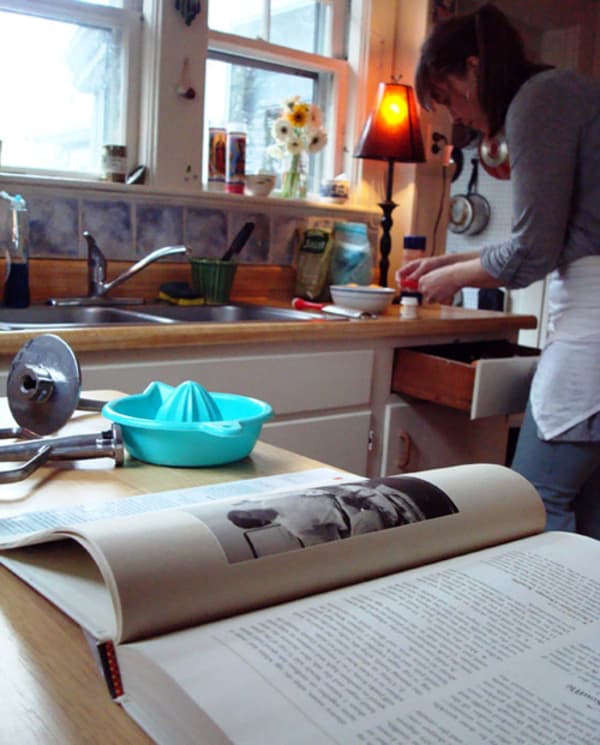 What gives a kitchen soul? What makes it look like a place you'd like to hang out in, spend some time stirring up a sauce or a batch of homemade bread? We show you all kinds of amazing, expensive kitchens here — like Piper's Dream-to-Reality Kitchen, from earlier this week — but we also love to celebrate the smaller, more modest places that many of us call home. Rental kitchens, even, like this cozy, soulful space where reader Jessica cooks. See how she used artwork and a few homey touches to turn this little space into the heart of her home.
Jessica lives in Quincy, MA. When she wrote to me to share her kitchen, she explained, "Our place is a rental, so our ability to change much in the way of aesthetics is limited, but our kitchen has a good stove, ample counter space, lots of windows and a whole lot of soul." Sounds a lot like the rental kitchens I've inhabited all my life, too — and probably you could say the same! Every kitchen gets its charm and soul from those who use it, but this is perhaps more apparent in rental kitchens.
Any kitchen, whether it's a modest rental or a dream space, customized to within an inch of its life, should be a place you love to cook, and a place you love to hang out. As Jess says, "This kitchen is used constantly. I cook at home because I love it, and to gather material for my personal blog. There is no place I would rather be on a Saturday or Sunday afternoon."
And that's really the best praise a kitchen can have. Read on for a few questions for Jessica about her kitchen, including one of the best pieces of kitchen advice we've ever had in our questionnaires!
10 Questions for Jessica (and Her Kitchen)
1. What inspires your kitchen and your cooking?
All the ladies in my family. My mom, aunts, cousins and of course, my sister. We are SO into our food. The best place to be is in the kitchen, around the counter, cooking, eating and cackling at each other's jokes. My sister once left me a seven minute voicemail about a soup she had just made and how good it was. That's what kind of girls we are. We spend our entire dinner hour talking about other food we have eaten, places we have eaten, things we have cooked and what we're going to eat next.
I'm also drawn to certain ingredients depending on who I am cooking for. If I'm having a particular friend over for dinner and I know something they really love, I'll use that as inspiration and go from there.
2. What is your favorite kitchen tool or element?
My favorite element of our space has to be the two walls of windows. This place is drunk with light all day long. It's just the kind of spot you want to hang out in and my absolute favorite place to be on a weekend afternoon (unless it's beach weather).
As far as tools go, it's a three way tie between my industrial grade skillet, chef's knife and immersion blender. Also, dish towels. I punish them on a daily basis and use them for everything.
3. What's the most memorable meal you've ever cooked in this kitchen?
Shortly after we moved in we invited a bunch of friends over for St. Patrick's Day. It was on a Tuesday that year. It was fun because the food was simple and delicious; there were plenty of beers and a really good crowd. I made a Guinness Shepherd's Pie and some Chocolate Stout Cupcakes with Bailey's Frosting. My mom made Irish soda bread which we slathered with lots of Kerry Gold. It was a really fun way to break up the week.
Also, any Sunday breakfast at home. I teach (yoga) several nights a week and Paul practices with his band, so we rarely eat dinner at home, together. Sunday mornings are a good excuse to sit down at the table for a while, drink too much coffee and reconnect.
4. The biggest challenge for cooking in your kitchen:
The biggest challenges I face are: keeping stuff (my crap) from accumulating on the kitchen table during the week (i.e. jackets, purses, cell phone chargers and mail); also organizing cookie sheets and baking dishes. Don't open those lower right cabinet doors, man. It's like a Jenga of various cookware and I am the only person on earth who knows how and why it fits together.
5. Is there anything you wish you had done differently?
We rent, so there's not much we can do in the way of permanent renovations. We have been able to make some small adjustments and enhancements to make the space nicer. Removing the cabinet door to expose the shelves and dishes was a really easy thing that had a large aesthetic impact. Also, incorporating lots of artwork and showing off colorful dishes and appliances ups the cozy factor.
There are only two things I really dislike in my kitchen: the cabinet doors, which are made of un-sanded, painted plywood (this means everything that touches them snags or gets a splinter). Also, the "tile" backsplash seriously hurts my feelings. It's rough, white ceramic that looks like it has been drawn on with blue crayons. I try not to let it bother me, but truth be told it's the first thing I would take a sledge hammer to.
6. Biggest indulgence or splurge in the kitchen:
Nothing really! Everything I own, I feel like, is either thrifted or gifted. My plates are from a flea market; my pots, pans and kitchen table were my Nana's; silverware was pilfered from roommates that moved out and left it; my food processor was a gift from my mom (and a floor model so it was a steal); the stand mixer, my dad gave me for Christmas last year and my knives were a gift from my aunt, who is extremely generous and wanted to support my cooking and writing, so she hooked me up with some fancy cutlery that I could have never afforded on my own.
I feel extremely lucky because I have everything I need and I've never really had to break the bank. Getting indulgent for me is hitting the "fancy" grocery store antipasto bar on a Friday night without worrying about what it costs. That's my idea of a good time!
7. Is there anything you hope to add or improve in your kitchen?
A dishwasher would, without a doubt, have a huge impact on our quality of life. I like to cook all the time, but sometimes I hesitate because I'm soooo sick of doing dishes. I'd also love a Gel Pro mat, because I cook barefoot for hours at a time and I think my aching knees would thank me.
If we owned this space or were given carte blanche to remodel it, we would keep the layout as it is and just class up some elements: white subway tile on the backsplash, a nice deep farmer's sink, concrete countertops and ditch the drop ceiling and overhead fluorescent lights.
8. How would you describe your cooking style?
Simple, savory and easy going. Less is more. Do not fear butter and salt. I like to use good ingredients and try not to screw with them too much. I cook mostly vegetables and whole grains; sometimes fish or chicken, but rarely meat. Cool months yield lots of soups; warm months mean grilling out and making delicious salads. I use recipes or ideas as a loose framework and then just do what feels right. Unless I'm baking, in which case I try to be precise, because I know how that can go south, fast.
I get a whole lot of joy out of cooking and I'm careful to keep it that way. Sometimes this means I have to tell myself "Jess, don't be a hero." It's fun to try new things, but I don't cook to impress others. It should be fun to get ready for a party; I shouldn't be sweating over 17 different types of fancy appetizers swearing my head off in the kitchen when everyone will just end up eating the pigs in a blanket anyways. I try to remember to enjoy myself, even if I have to be reminded twice.
9. Best cooking advice or tip you ever received:
Last Thanksgiving I made the world's worst pie. I mean a disaster of epic proportions. My Aunt Sally was like, "A little garnish of whipped cream and you should be good." Then she looked at me and said, "You know 'garnish' is French for 'f*ck up', right?" That's probably the best cooking tip I've ever heard.
10. What are you cooking this week?
The answer to this question will always be pizza. On Saturday, I tried my hand at the Skillet Lemon Soufflé in Cook's Best Skillet Recipes (surprisingly simple!). I'm headed out of town on Thursday morning, so I will probably be scraping from the cupboard shelves as an effort to not buy groceries (which means pasta).
Resources
• Mixer: Kitchenaid
• Plates and pot holders: Anthropologie, Target, flea market
• Coffee Maker: Chemex
• Baskets and knit washcloths: made by my mom
• Kitchen chairs: IKEA
• "Hot Stuff" trivet: Etsy (found by way of thekitchn!)
• Yellow lamp: IKEA
• Red lamp: Pier One
• Pot rack: made by my dad
Artwork:
• "Big Trouble in Little China" print by Travis Pitts (found on imagekind.com)
• Three prints in frame and two prints on window sill by James Polusky
• "At First Sight" print by Jyll Ehtier Mullen (www.sickfeet.net)
• The other two paintings I did in and after college.
Thank you so much for letting us peek into your kitchen, Jessica!