Kitchen Tour: Jay's Chelsea Renovation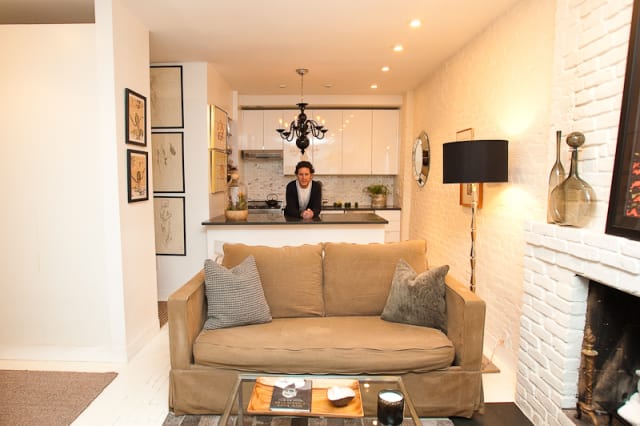 Jay recently did a complete renovation of his apartment after renting it for nearly eight years and then purchasing it in 2005. It is on the ground floor of an 1860 brownstone. The kitchen was an aspect of the apartment he was least satisfied with. He wanted to knock out the wall separating the kitchen from the living space, create a better area for entertaining and upgrade the appliances and overall look. Through the redesign process, he intended to construct a light and airy space out of what was formerly dark and claustrophobic.
Jay hired New York architect Steve Blatz to help think through the options and spearhead the project. While Jay economized in some areas of the apartment, the kitchen was one where he splurged with the goal of maximizing efficiency, space-usage and quality.
He installed a 72-inch long "peninsula" that divides the kitchen area from the living area as well as houses storage, appliances and a generous prep and sitting area. He used marble slab for the countertops and marble tile for the backsplash (both from Stone Source). The kitchen appliances are pint-sized but luxurious in both finish (stainless steel) and quality. There is a Miele 18-inch dishwasher, U-Line under-the-counter freezer drawers equipped with an icemaker and a U-Line under-the-counter refrigerator. Jay opted for a 24-inch restaurant-quality range from Bertazzoni that suited the space and allowed for ample storage for pots and pans in cabinets alongside it.
While Jay opted for high gloss white cabinetry from IKEA, he purchased a $3,000 chandelier from Jayson Home and Garden. This item adds sophistication and a touch of glamour to the kitchen.
Consistent with the rest of the space, Jay made use of even seemingly awkward areas in the kitchen with great success. The niche where the old refrigerator was installed became a shelving area for wine storage and other kitchen items as well as a place to keep tucked away his husky's raised feeding bowl. He managed to squeeze a compact LG combination washer/dryer into the kitchen providing for one of New York's most sought-after domestic luxuries.
One of the special things about Jay's apartment is the art and collectables he has cleverly acquired and assembled over many years. The kitchen is no exception. Tiles depicting produce by Greg Copeland, sourced at Las Venus, decorate one wall of the kitchen. A terrarium (a recent passion) that he made after a class at Wave Hill adorns the peninsula. Flowers (potted and cut) occupy every "room" in the studio including the kitchen and seemingly bring the outdoors in.
Jay's kitchen is an example of how small need not mean skimpy in design, function or satisfaction.
Kitchen Tour Survey
1. What's your cooking style? 


Bipolar? I tend to either do a relatively fast, simple meal, 'one-pot' if possible, like a pizza or soup, or lately, a black-pepper-shrimp-with-black-eyed-peas recipe I love and have made several times — or I'll do a more elaborate meal of several dishes.


2. What inspires your kitchen?


In no particular 

• Recipe recommendations from friends and family

• Cocktails (St. Germain and tequila make an amazing margarita, btw)

• Barefoot Contessa and
Epicurious


3. Favorite tool or element: 


Tool - Reamer, MicroPlane.
Element - Fire


4. Best cooking advice or tip you ever received: 


Let the meat rest 10 minutes before serving.


5. Biggest challenge in your kitchen: 


Storage space. It's like a puzzle: Any time someone gives me something or I buy a new item, it requires shifting things around and/or getting rid of something else. And keeping the white floors white.


6. Biggest indulgence: 


Beef tenderloin with Gorgonzola cream sauce.
Truffle salt. Sottocenere (truffle) cheese.
Trader Joe's Triple Ginger Snaps.
My Miele dishwasher


7. Dream tool or splurge: 


Cuisinart 16-cup food processor.
A good Japanese knife


8. What are you cooking this week? 


Nothing noteworthy, I'm afraid. I didn't shop since I'm going out of town. 


9. Desert island cookbook?


"1001 Ways to Cook with Coconut?"

Silver Spoon or The New Basics.


10. Favorite meal cooked here?


Ale-steamed mussels with garlic and mustard.
Pumpkin roulade.
• See the rest of Jay's apartment at Apartment Therapy: House Tour: Jay's Chelsea Renovation
Thank you so much for sharing your kitchen with us, Jay! It looks like such an inviting, well-planned place to cook.
See more kitchen tours here: Kitchen Tours at The Kitchn
(Images: Sabra Krock of Sabra Krock Photography)