Kitchen Tour: Emily's Wide-Open Inspiration
We met Emily at her home on a cold Wednesday morning when her husband and four kids (all under 9) were out and occupied. We chatted while she showed us around the old Victorian which was quiet and calm — something we could tell might be a rarity given the evidence of her brood everywhere. Their home is warm, thoroughly lived in, and clearly loved to the hilt. But the kitchen has an intriguing vastness. Where others might have installed an island with room for bar seating, Emily's kitchen seems to relish its uninterrupted square footage, something that no doubt comes in handy when 6 warm bodies are working together to bring a meal to the table…

Emily Franklin is a former chef and the author of a new cookbook, Too Many Cooks: Kitchen Adventures with 1 Mom, 4 Kids, and 102 Recipes, as well as two novels, The Girls' Almanac and Liner Notes. She has also written over a dozen books for teens. You can visit her at emilyfranklin.com.

What's your cooking style?
More Glenn Gould and Liszt than Mozart. That is, highly improvisational. I tend to think about food, dream about it, romance an idea around, then shop and make and dish a see how it turns out. Along the way, however, there are always changes — oh, look, we have extra kale so I'll add that in — and what started as a pasta dish might end up as a torte if my mood or the ingredients change. Also, now that I'm cooking for my big family, I tend to think in terms of beginning of the week (might make something large that can be reused or deconstructed for leftovers) and then slide into the weekend with an easy dish. I love getting an idea about trying something new and making it happen just as much as I like revisiting family favorites. But I'm a TERRIBLE recipe-follower. I break many rules and add things and am prone to skipping sifting.
What inspires your kitchen?
I read this question as "what inspires you in your kitchen" so I think I'll answer that because it actually answers the real question. My walls are "French Cream" or "French Butter" — something caloric and rich. The sun hits the surface and warms up the room, and makes simmering soups or canning jams a delight. Always, the voices of my four kids fill the space, and while the house is old (built in 1889), the appliances are new. The combination of antique and modern is inspirational and speaks to not only my kitchen but my way of cooking. I grew up half in Europe and half here and I wanted a mix of country and city, American and other, and mainly a place where sharing — of food and stories — can occur.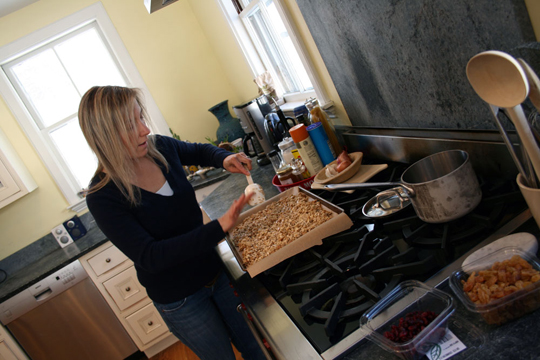 What is your favorite kitchen tool or element?
Soapstone is wonderful for making dough and pastries. I adore my stove, and my fridge annoys me daily, but my current favorite tool is the wooden spoon I bought in Morocco. It's pleasingly round (rather than oval) and while it isn't a ladle, has lip enough to hold risotto or chowder. It cost less than two dollars and I watched the woodworker make it by hand.
Best cooking advice or tip you ever received:
"If you're going to cook something, you should probably want to eat it." — My oldest son at age 3.
Biggest challenge in your kitchen:
When we first moved in, the kitchen still had an icebox with a pull handle. We could fit one quart of milk or lettuce but not both. When we re-did the room, we got a much larger fridge but in order to have enough counter space, we tucked the fridge into the corner of the room. It's pleasing to the eye and provides space for mixing, rolling, and prep, but the downside is the fridge can't open all the way, so I'm perpetually slamming it into the windowsill or unable to open the produce drawer all the way or having to rearrange items to accommodate the door.
…Either that or having four children under age nine tugging on me at any given moment.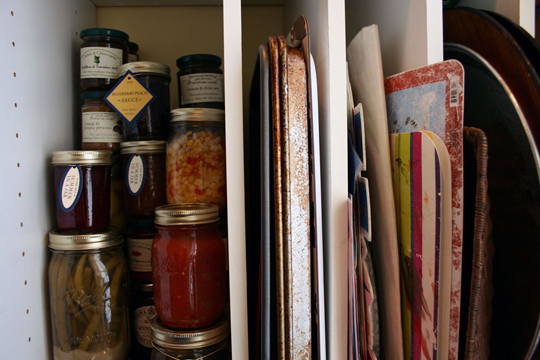 Biggest indulgence:
Vanilla bean pods and candied violets from G. Detou in Paris, or my six-burner stove.
Dream tool or splurge:
An immersion blender to replace the one I had in the UK.
What are you cooking this week?



Moroccan Cod with caramelized onions, lentils, and smoky tomatoes.


Zucchini chocolate chip muffins that I shredded and froze last summer.


Chard-Sunflower tart.


Barbeque turkey meatloaf, spinach lasagna, Umbrian Chicken with Orechiette, and Greek Loukoumathes (honey puffs) for a friend who is starting chemo.


What cookbook has inspired you the most?
Which cookbook? My grandmother's notebook which contains sketches of her garden, lists of everything she ever planted and every single item she canned for nearly thirty years. Recipes for garlic-dill pickles, shredded beets with mustard seeds, cold cucumber soup, and notes about how to grow everything. I can make the same recipe now that I ate at her side when I was five.
Which cook? The Swedish chef. He never seemed to know what he was doing but had fun doing it. If memory serves, he sang all the time and ended up producing memorable meals. Plus, his whites were immaculate. With four kids under nine, I'm lucky if I've showered.
What's the most memorable meal you've ever cooked in this kitchen?
A glorious Thanksgiving for 25 people or the saffron salmon chowder I made when my fourth baby came home from the hospital and we were finally a family of six sitting down to eat together.
Resources:
Vermont soapstone, Wolf stove, G Detou (G. Detou, 58 rue Tiquetonne 75002, Paris, 01 42 36 54 67)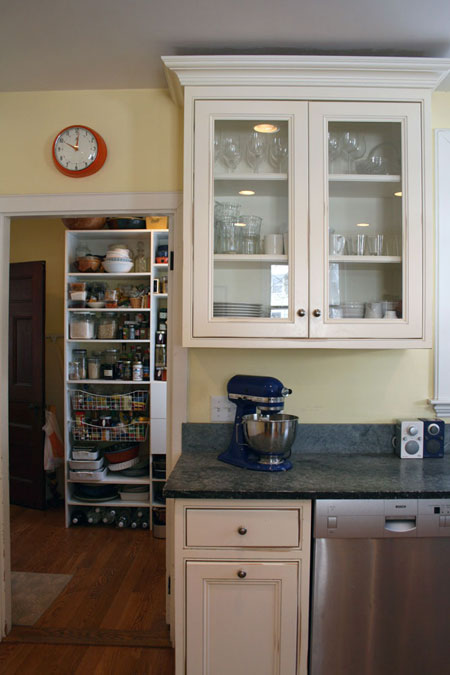 Recipe for Simple Granola
This is reprinted with permission from Too Many Cooks: Kitchen Adventures with 1 Mom, 4 Kids, and 102 Recipes, published by Hyperion.

This takes all of twenty minutes to make. I make a large batch and store it in an airtight container (or an oversized Ziplock). Funnily enough, because I introduced this at night, I rarely serve it at breakfast. Sometimes it's a quick weekend lunch. Other times, a cool summer dinner. For housewarming or holidays I sift the cooled granola into canning jars, add some chopped up dried fruit (see below) and tie with a bow for an easy gift.

Note: measure oil first – this way the honey will slide out easily and make for simple clean-up.
3/4 cup canola oil
3/4 cup honey
Big splash vanilla extract
1 teaspoon brown sugar
5 1/2 cups rolled oats (not the quick cooking ones)
3 cups bran bud (Grape Nuts)
+/- handfuls of dried fruit (golden and brown raisins, cranberries, blueberries, chopped apricots, dates, etc.)
+/- Fruit for layering if making parfait – bananas, apples, grapes, cantaloupe, honeydew

Oven to 300. Heat oil, honey, sugar, and vanilla for about 1 minute in microwave or two minutes on stovetop. In large bowl, mix warm ingredients and add in dry (except for dried fruit). Stir gently until combined.
Pour onto parchment-lined cookie sheet and spread into one layer. Bake for 25ish minutes, shifting/mixing granola a few times. If you need to leave, turn off the oven and it will be fine. If you're home, take it out. You can't mess it up unless you burn it, which I have certainly done.
LET COOL completely before testing or doing anything else to it. The crunch comes only upon cooldown. Once cool, add dried fruit if desired or mix into plain yogurt for a healthy lunch. Feel free to add toasted almonds or sunflower seeds if you like.
Published: Apr 24, 2009