Kitchen Tour: Ariana's Charming Bavarian Kitchen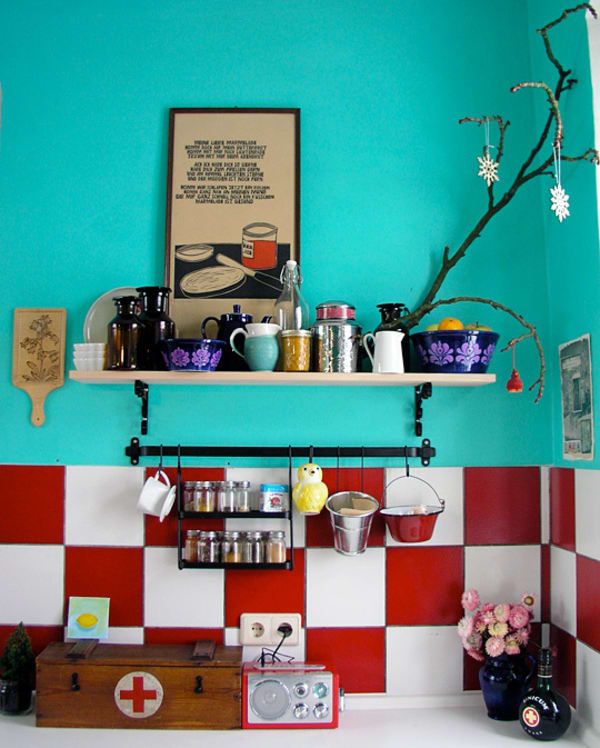 Ariana is a long-time Kitchn reader who shared her sweet Portland kitchen with us in last year's Small Cool Kitchens contest. Since then, however, she has moved with her husband and daughter to a 300-year-old rental home in Bavaria, Germany. Here's a peek into her charming German kitchen!
Ariana says that when they moved to Germany from Portland they sold or gave away almost everything, and they set up the new kitchen through antique stores and local flea markets. They are renters, so they haven't changed major fixtures or the appliances or countertops. But Ariana says that they have added their own personal style and functional touches.
You can see Ariana's previous kitchen in Portland here, too:
• Ariana's Cheerful, Colorful Portland Kitchen
10 Questions for Ariana (and Her Kitchen)
1. What inspires your kitchen and your cooking?
I feel really inspired by our location! I am living in a home that is 300 years old, in an adorable town in Bavaria. We are surrounded by farms and forests, and have amazing access to all kinds of fresh, local foods all year. I cook differently here than I did in Portland, because I am in a completely different place!
2. What was the biggest indulgence or splurge in the kitchen?
When we moved, we got rid of virtually everything. All but about ten items in our kitchen are newly acquired. Our biggest splurge was probably dishes and glasses from Zara Home. We really haven't indulged in much, but I am extremely happy to have that baker's cabinet — we got it really cheap locally. Although inexpensive, it certainly feels very indulgent to be able to shop at local flea markets here for the majority of our home purchases!
3. Is there anything you wish you had done differently?
Actually, I am not really thrilled with the color we painted it. The walls were in terrible shape, and even though the paint was turning out WAY brighter than I had wanted, I went ahead and finished the room just so it would look clean, finally. It's possible that we'll try again soon, but we have a lot of other rooms in the home to address before we get back around to the kitchen again.
4. Is there anything you hope to add or improve in your kitchen?
Depending on how long we stay here, I'd like to change out the cabinet hardware and the faucet. I'm thinking about taking some doors off of the cabinets for a more open feel. If I wasn't renting, I would change the counter tops right away, since they are kind of textured and hold onto every little thing-- I would go for more traditional choices, more natural wood.
5. What is your favorite kitchen tool or element?
I don't think I could live without an immersion blender. I use it at least 3 to 4 times a week. All of the windows in the kitchen make me very, very happy. I like to just hang out in there.
6. What is the biggest challenge of cooking in your kitchen?
My previous kitchen was very challenging in terms of size and counter space, so I don't really have many complaints here. Our fridge is tiny, so I don't keep more than a day or two's worth of food on hand. Our oven is also very small, with only one rack. We haven't thrown any parties, but I expect that when the time comes, it will be pretty tricky.
7. How would you describe your cooking style?
Ingredient-based. I basically shop every other day, and see what's fresh and available, then create a meal around that. My family is on an anti-inflammatory diet, which means we mostly eat fruits, vegetables, meat, eggs, nuts and seeds. It's actually pretty simple to cook this way, and we have never enjoyed our food more!
8. What's the most memorable meal you've ever cooked in this kitchen?
Well, we have only been here for four months, and have only had dinner guests twice so there aren't too many. But one of our favorite meals is a venison roast, cauliflower puree, and roasted Brussels sprouts.
9. Best cooking advice or tip you ever received?
Always use the freshest, highest-quality ingredients possible!
10. What are you cooking this week?
I picked up a venison roast this morning at the open market, so I'm definitely looking forward to that! I'll also be making chicken stock for soups, and we usually have one meal a week of bratwurst and spiced sauerkraut.
• Visit Ariana's blog: And Here We Are...
Thank you so much for letting us peek into your kitchen Ariana!
(Images: Ariana via email)