Kitchen Tour: Yana and Leigh's Natural Wonder
[Chris, our NYC writer, will bring us Kitchen Tours, starting this week. He'll be checking out the rooms of NYC apartments we consider so dear: the kitchen. Any size, any style… To have your kitchen considered, see info at the end of the post.]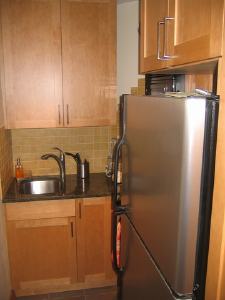 Name: Leigh and Yana
Location: West Village, New York City
Kitchen Size: 5 feet x 9 feet
When Yana and Leigh bought this one-bedroom apartment, it had been an rental apartment with the same tenants for over thirty years. They set about gutting the place: all new flooring, new walls, new lighting system. They finished the kitchen early this year and plan to renovate the bathroom next.
Their small kitchen is powerful. As you'll see in some "before" pictures they shared, the old kitchen had worn out appliances, small cabinets and only one drawer.
After searching for a custom cabinet that would make the best of an angled wall in the back of the kitchen, they decided to turn a wall in their entrance area into a pantry instead. The extra space gained with the pantry and large upper cabinets makes the kitchen work for them. Yana says the pantry is her favorite part of the design.
Yana and Leigh share their apartment with their baby son, Charlie. The renovated kitchen has plenty of room for a mini-food processor and bottles for Charlie. Leigh makes stoneware bowls and they look perfect against the warm, natural but modern color scheme they selected.
Thanks, Yana and Leigh, for sharing your kitchen with us.
We want to share your efficient, hardworking kitchen.
To invite us to tour your kitchen,
please click the "email us" button to the right and let us know.
Currently, we're only touring in NYC, but if you can send your own photos
from anywhere, we'd like to see.












Published: Nov 13, 2006