Kitchen Spotlight: Teeny IKEA Kitchen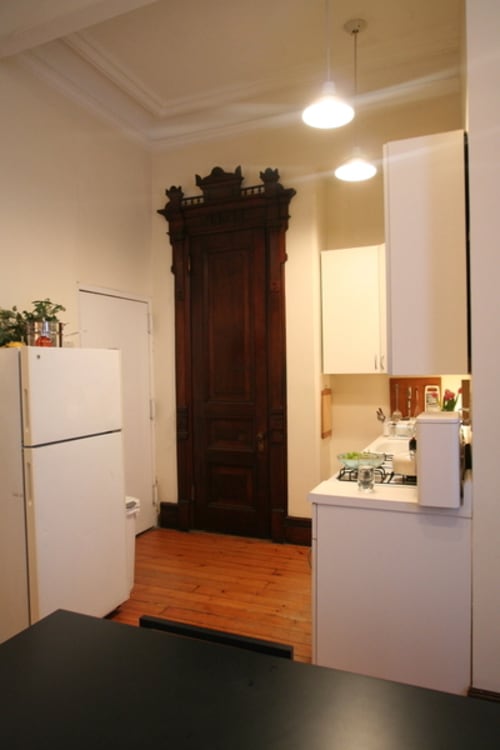 Did you know that we've just launched our fifth
Small Cool
contest? We're looking for the smallest, coolest, homes we can find. This is an inspiring contest, and we love the chance to peek into people's spaces. What we're most interested in, of course, here at The Kitchn, are people's little kitchens. How do you cook in a teeny space? How do you make it work for you? We'll have our eye out for especially good small kitchens in this year's contest.
To celebrate Small Cool, here's a look at a kitchen from the most recent Apartment Therapy house tour: a big old brownstone with a teeny IKEA kitchen.
• 1 The kitchen is basically the entryway to the home, a small space for a kitchen in an otherwise huge and beautiful apartment.
• 2 The landlord recently updated the kitchen with basic IKEA cabinets.
• 3 Nicole kept the kitchen very simple and minimalist, in keeping with the rest of their home.
• 4 But we do love the fresh flowers and this simple hanging board with hooks for essential kitchen tools.
• 5 And there will be plenty of plant life: Nicole is starting 24 lavender plants!
• See the full house tour: House Tour: Nicole's Extravagant Monastic Parlor
Also! Is your home under 1200 square feet? Do you have an inspiring small-space story to tell? Enter the Small Cool 2009 contest:
• Tiniest Kitchen Ever? Jack's Micro Home
(Images: Jill Slater for Apartment Therapy)