Kitchen Smells That Tell Me Fall Is Here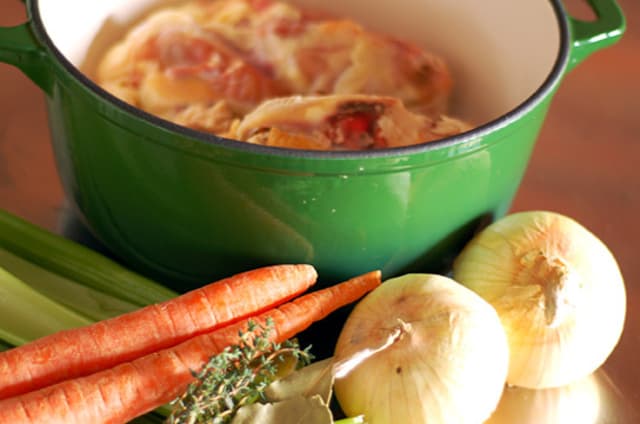 The other night, I went to a friend's house for one of those delightfully casual, last minute summer dinners. She had ordered pizza from the shop around the corner (mmmmm...artichokes and anchovies...) and the wine was already open and flowing. Summer is easy. Bed times aren't as strict and no one has homework, so dinner just kind of happens. But the smell that reached my nose when I entered her kitchen reminded me that fall is coming.

Though she had ordered pizza, my friend was making chicken stock with some scraps from earlier in the day. I make stock regularly and freeze it, but I don't use it as much in the summer, so it lasts longer. I haven't made it in months, and there are still a few small containers left. Now that school is back in session, chicken stock will be a necessity for soups, last minute risotto, and just about every other hot dish I make.

Her pot of stock smelled like more than chicken. I imagined new pencils and notebooks, an afternoon bowl of popcorn enjoyed over homework, autumn leaves, a chill in the air and planned meals, enjoyed around the table with family. I knew my flip-flops and cut offs would soon be replaced by close-toed shoes and actual outfits, my casual pizza dinners with organized meal times.
The smells of summer — fresh berries, watermelon, boiling shrimp and roasting corn — are being replaced. Soon, my kitchen will smell of chicken stock, fish chowder, family friendly casseroles, crisp apples and sauces made from the last summer vegetables.
What do you need to add to your pantry or freezer for fall? How does the smell of your kitchen change?
(Image: Emma Christensen)