Kitchen Envy: Seeing Your Layout Used Differently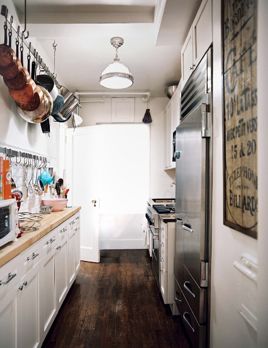 Right now, there are a lot of other people in our kitchen. The lovely couple two floors below us is in our kitchen. The man who plays Rock Band too loud one floor up is in our kitchen. Anyone in the same line of our large apartment building is living with the same floor plan, and yet little tweaks (and sometimes
Earlier this week, we had a major eye-opening moment. We visited some neighbors six floors up and saw our exact space designed SO much more efficiently. Their sink was on a different wall, right in front of the window (much smarter), and the biggest change: the refrigerator was in the back corner rather than taking up monstrous space in the front of the room.
Now, changing our kitchen will require a renovation, so it's not like we can move a stool and have an epiphany. However, we never thought our small kitchen could feel so incredibly open and spacious. We plan to be here for a long time, so eventually, we might renovate. And we know exactly where to look for inspiration.
So, apartment dwellers: Do you peek into your neighbors' kitchens? Have you made any changes based on what you've seen? This could also go for those of you who live in planned communities where many of the houses have the same floor plans.
(Images: Patrick Cline/Lonny)
Published: Mar 11, 2011