Kitchen Cure Update: New Pot Lid Rack and Better Storage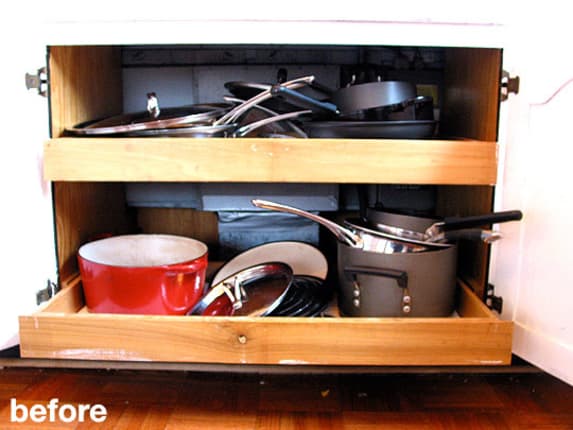 How is this week's Cure assignment going? Have you reevaluated your kitchen tools and utensils, and decluttered? Are you Curing your equipment and storage? Send us photos of your before shots, and your after shots too, if you have them! We're looking forward to sharing updates from you in the big Cure Check-In tomorrow.
For now, I'll show you my own work on Curing the kitchen. I show you mine, and you show us yours — deal?
Like I said earlier, I am fairly new to this kitchen. I feel like I've been living in a state of limbo, with cluttered drawers and poorly placed storage. I just hadn't stepped back and looked at it fresh. Well, this Cure is exactly what I needed! I'm halfway through reorganizing my cupboards, and it's utterly cathartic.
Last night I went a little crazy, cleaning my cupboards and moving things around. (Nothing like late night kitchen reorganization!)
You can see my before and after progress in the slideshow above. Now the pots all sit inside my lazy Susan, and they fit perfectly! I especially don't like to stack enameled cast iron, so I was glad those two pieces could sit by themselves. I did stack up the frying pans, sauté pans, and a couple of pots. I am hoping to create visual parking spots for where each pot goes, so we always put them back in the right places. It's like a pot and pan garage!
The lids for the larger pieces, like the Dutch ovens and my giant All-Clad sauté pan, sit on the pan itself. It's great to keep these heavy lids with their pots. Also, in a nice twist, the lazy Susan seems to turn much better now with all that weight on it. I think it actually holds it into place and keeps it from banging when opened.
I had a plan for the smaller lids, but it wasn't a good use of space. I was going to put them in this top drawer, under the stove, with the lid organizer screwed into the drawer itself and the lids laying horizontally. But they were going to be a little loose still, and it seemed a poor use of the space. My husband suggested hanging it on the wall, and it turned out to fit perfectly in a little corner of the kitchen. I didn't really want extra things cluttering up the walls, but this works surprisingly well.
This IKEA pot lid rack is a great deal, too. It only cost $3!
• RATIONELL VARIERA Pot Lid Rack, $2.99 at IKEA
My plastic food-keeper boxes moved under the stove in a big shallow drawer. This is much more accessible, and easier to keep things organized. I went through (ruthlessly!) and tossed any pieces that didn't have corresponding lids or bottoms. So much better now!
I also moved my mixing bowls from a hard-to-reach (for me anyway) cupboard over the stove to the now-empty drawer underneath the stove.
It was so refreshing to clean out those drawers and to put freshly organized kitchen gear into neat, well-wiped storage spaces. It makes cooking feel even more appealing.
Coming up tomorrow: That crazy tool drawer, decluttering my utensil jars, and neatening the countertops.
That is my Kitchen Cure update! Now, where is your Kitchen Cure update? Get into those shelves and drawers; it's so completely satisfying to clean it all out.
• Send us photos of your Kitchen Cure this week