Kitchen Cupboard Before & After: From Unusable Hole to Airy Nook With Storage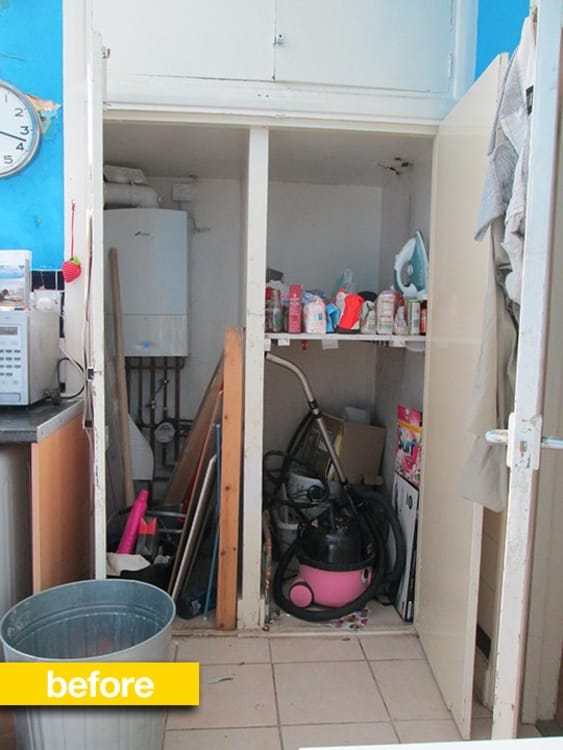 (Image credit: Catherine S. via The Kitchn's submission form)
Kitchn reader Catherine called this space in her kitchen a "black hole of a kitchen cupboard" and basically unusable as configured. Not content to let all that space go to waste, she turned it into an airy nook for her washing machine and extra kitchen appliances. See what it looks like now!
(Image credit: Catherine S. via The Kitchn's submission form)
Looks so great! That is definitely a much better use of the space than what was there before! Here's what Catherine says about her project:
The cupboard was deceptively deep, meaning that we could really only access things at the front, wasting all the space at the back and generally turning into a dumping ground for anything that didn't have a place. In the top part of the closet, there was also a ridiculously huge water tank that wasn't actually necessary. Removing that meant we could open up the space and show off the super high ceilings.

The washing machine formerly sat under the kitchen counter, taking up the space of a cabinet and jutting out into the room, making the space feel a lot smaller. Moving the microwave and toaster to this corner (we don't use either very often) also opened up the counter space, meaning we could declutter the rest of the kitchen.

Originally I had visions of lots of shelves filled with pretty jars, but in reality we didn't actually need much extra storage, so we decided to keep it fairly empty and build extra shelving if we need it in the future.
Thanks for sharing, Catherine!
Have a kitchen tip, project, or renovation you'd like to show off?
Every week we feature a reader kitchen project, and we're always looking for submissions. To submit your own project, follow the instructions in this post and you could see it end up here on The Kitchn.