Kitchen Before & After: Dark and Dreary to Light and Bright!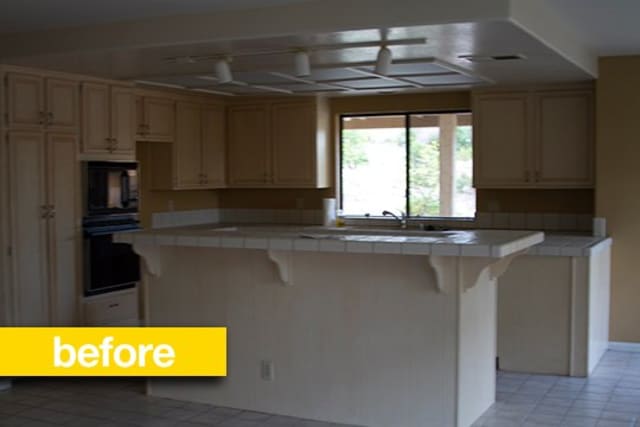 When Beth moved into her San Diego home, the 1980s kitchen had never been updated. "The kitchen was very small for the size of the home (4 bedrooms)," she wrote to us. She dreamed of an open kitchen and dining area, and a large pantry. Over the course of four months the existing kitchen was stripped to the studs and rebuilt it into a beautiful, light-filled space. See what this kitchen looks like now!
So, so lovely! The colors and design remind us of this Kitchen Tour, which is one of our all-time favorites. Here's what Beth of the blog Food Fashion and Fun tells us about her stunning remodel, including how they saved money in the process:
We did a lot of research before we began construction. It's a big house and we knew that if we didn't watch every penny, the spending could easily spiral out of control. We have a more modern style which is hard to find in local stores, and when you do find it you could drop a grand just on your faucet. That just didn't seem reasonable, so to save money we ended up getting a lot of the fixtures online through Amazon, Overstock, Home Depot or Lowe's. We even got our oven online.
We loved the classic and clean crisp feel of white subway tiles from Arizona Tile. It really makes the room feel very bright. We loved the look of Caesarstone countertops but not the price, so we went with a more affordable option from Granix. It's a composite granite but the price is 1/3 of the brand name stuff. It's holding up great and looks wonderful. I've spilled red wine and coffee on the counter without staining. The island is so big that it's actually one whole slab!
My favorite fixture is my pot filler. Normally they can be thousands of dollars but we found one online through Overstock for a few hundred dollars. It makes cooking so much easier. It's the one thing in the kitchen that everyone asks about. I regularly give demonstrations to guests.
I also love my modern chandelier in the dining room. I have seen so many in the Apartment Therapy House Tours and love each and every one. I didn't think we would be able to afford one but we happened to walk into Lamps Plus during a clearance sale and got lucky. I love how different it is. It makes the room really special.
Even though we shopped around and found a good price, I think our big spurge for the room is the folding door. The door is 12 feet long and collapses for a huge opening. The added bonus is that is has a screen so we don't invite in all the lovely bugs and wild life that are abundant in our backyard. It's the first thing everyone notices about the room. We've planned the placement so that it opens up and leads you from the dining room to a patio and one day, to a pool.
Thanks so much for sharing, Beth!
Have a kitchen tip, project, or renovation you'd like to show off?
Every week we feature a reader kitchen project, and we're always looking for submissions. To submit your own project, follow the instructions in this post and you could see it end up here on The Kitchn.