Kitchen Before & After: Leigh's 'One Window to Many Windows' Renovation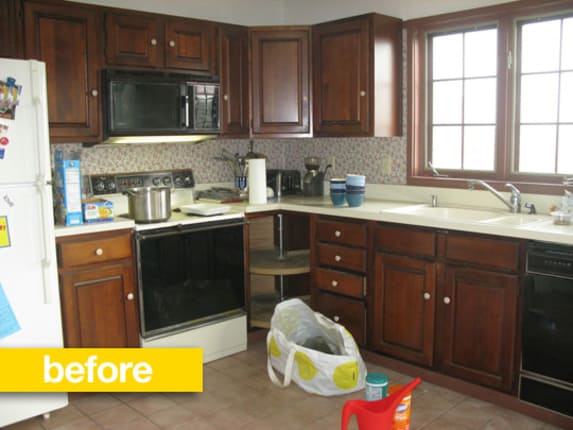 What's the incentive to undergo a kitchen renovation? For Kitchn reader Leigh, it was a desire to make the most of the view outside. "One of the major problems with the existing kitchen was that it only had one small window looking over an amazing view," Leigh told us in a recent email. "Our goal from the beginning was to open up the views by having as many windows as possible and no upper cabinets.  To do that, we needed to redesign the space to make room for a large pantry/mudroom..."
That's quite the transformation! Here's how it happened, in Leigh's words:

The work for this project was completed start to finish in weeks in late 2010-early 2011. Yes, over the holidays. We bought the house in 2009 knowing that the kitchen was going to have to be redone. We were happy to do that, especially since we got a great deal on the house....
The best, most major decision we made was to hire a contractor who we knew through previous work he had done on our old house. We knew from past experience that when he starts a job he is there every day until it is done, and that his subcontractors are very good. He is very busy, so we had to wait almost a year between deciding to do the job and when he was actually available to start. Although we were excited to get started, we were able to use the time to plan out exactly what we wanted. That ended up being a large savings, in that we didn't have to make any changes during the job, and the price quoted was the actual price in the end...
Once the space was designed, we picked out our appliances so that those specs could be given to the cabinet maker. We saved money by buying a floor model refrigerator and choosing a range that is a lesser known brand, but is the company that makes the parts for Wolf. It was half the price of the same size Wolf.

The sink and faucet came from Overstock.

When it came to cabinets, we ended up going with a family owned local company (Modern Cabinets, Bristol, CT). We started looking at Crownpoint or Plain and Fancy, and found quickly that they were far outside our budget. We priced the semi-customs at Home Depot and the price for this was similar; and I was able to get the inset fronts, something that was very important to me. We also were able to design the trim and specify our cabinets. It really was a nice surprise to find out how reasonable the cabinetry ended up being.

For the countertops, I wanted soapstone or Carrera marble, but the maintenance made those not desirable to my husband. We found a granite called Jet Mist; it is from Virginia which was nice as we were trying to be as green as possible and this didn't have to be shipped from Brazil or Italy.

The floors are slate.

Many times I have asked what I would've done differently, and I honestly can't think of anything!
Now we can see what all the fuss was about: what a view!
Thanks for sharing, Leigh!