Kitchen Before & After: An 80's Kitchen Gets a Facelift, But Stays Warm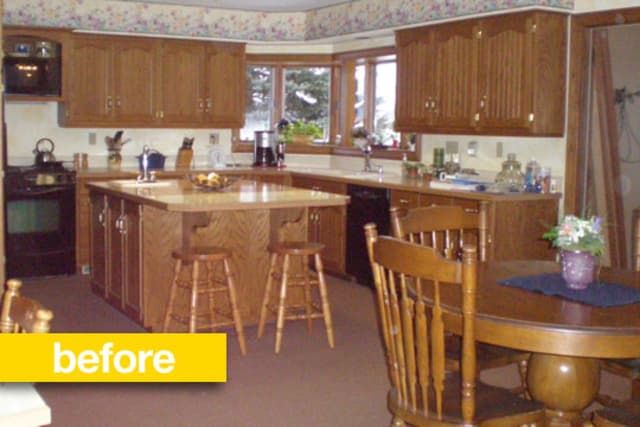 When Kitchn reader Sherri decided to give her 80's kitchen a facelift, she knew she wanted to keep her appliances (they were all under five years old) and the look of the warm oak wood. But a few key changes and the kitchen is now much improved! See the 'After' photos below:
Here's what Sherri says about updating her kitchen:
Our 80's kitchen needed a face lift. We installed new lighting, flooring, countertops, backsplash, cabinet hardware, sinks and faucets. Since the appliances were under 5 years old and I liked my warm oak cabinets, they all remained.

The wall between the dining room and sun porch was torn down which opened everything up and added natural lighting. The desk area received a face-lift and the bi-fold doors were removed from the entry way closet to make it more usable. I looked a long time till I found the cabinet pulls and cracked ice luxe diamond tiles used in the backsplash. It was love at first sight. I also used The Kitchn when researching which countertops, flooring and faucets worked best for us.


I didn't like the shine the can lights put on my medium lustre painted bulkhead. So I bought the same color (Sherwin Williams Bamboo Shoot) in a low lustre. Then taped off a diamond pattern, which matched the back splash, and re-painted the bulkhead. So if the can lights are on, you can see a subtle semi gloss pattern in the bulkhead! It's a neat effect that receives a lot of positive comments.

We had the granite countertops, flooring, backsplash and can lighting installed by professionals. All the rest of the install and work were completed by us and some friends.
Thanks for sharing, Sherri!
Related: Kitchen Before & After: A 1980's Kitchen Gets a Chef-Caliber Makeover
(Images: Sherri for The Kitchn)