Kitchen Before & After: Heejoo's Open Floor Plan IKEA Renovation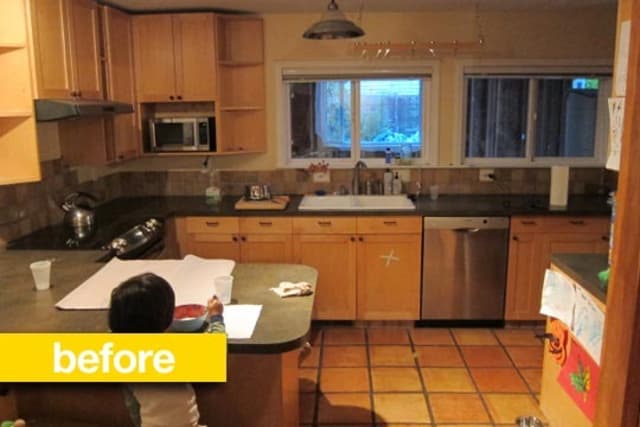 When Kitchn reader Heejoo renovated his Northeast Seattle home earlier this year, the kitchen was a big part of the makeover. Heejoo added a partial second story in order to expand and update the kitchen with a new formal entry and an L-shaped open floor plan—all designed to be "casual and modern." See what it looks like now:
Heejoo shares the details of this extensive remodel:
We remodeled our galley kitchen into an L-shaped, open floor plan with large island and vaulted ceilings. We extended the kitchen out into the back patio adding approximately 200 sqft to the existing floor plan and used IKEA boxes for cabinets with high gloss IKEA cabinet doors around the perimeter and semi-handmade custom walnut doors on the island. The perimeter cabinets have under cabinet halogen lighting and we installed IKEA door dampers for self-closing.
Since the kitchen is predominantly white, we added a splash of green with our island lights. The island measures 8' x 4' and is large enough for four adults to sit and eat comfortably. We added a prep sink for kids to wash hands at the end of the island, two skylights, a large window with horizontal sliders and a glass french door to create an open and bright space. We also added small windows above the cabinets to gain more light at sunset, and sacrificed taller cabinets for 30" cabinets because of the above cabinet windows.

We only have oil and electricity, we kept our existing electric stainless steel appliances which were only about two years old and in good shape. (Before photos show our original white appliances.)
We added slide out recycling, garbage and compost bins near the main sink. The counter tops in the old kitchen were laminate, the new counter tops are Caesarstone quartz. We also replaced our ceramic flooring with hardwood floors, created a counter depth pantry, and added chalk board paint for the kids to get creative in the kitchen.
Thanks, Heejoo!
Related: Kitchen Before & After: Theresa's 11-Day Gut Overhaul
(Images: Heejoo for The Kitchn)