Kitchen Before & After: A Standard Builder's Kitchen Gets a Colorful Makeover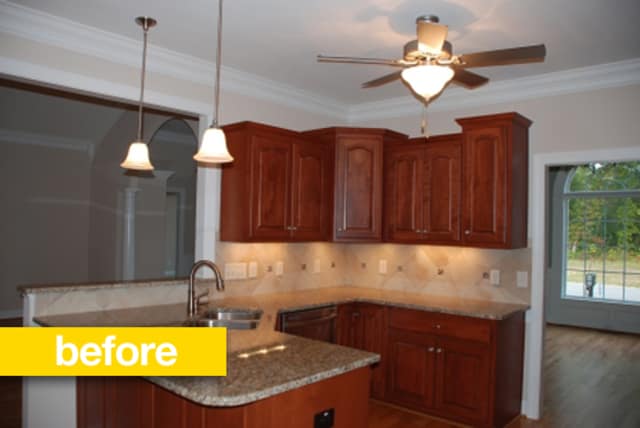 Ah, the standard builder's kitchen. It can be so bland and impersonal — the last thing you want in the place where you spend a good deal of your time! So what to do? If you're Kitchn reader Stacey, you opt for a few design changes and a whopping dose of color.
Hello pink! To update her kitchen, Stacey swapped out the traditional raised cabinets for flat front cabs with modern pulls; chose a simple white subway tile backsplash; installed recessed lighting in place of the pendant lighting ("I didn't like the idea of having pendant lighting in the line of vision, especially in an open kitchen"); and hung an affordable IKEA light fixture in place of the fan, which was "definitely a no no."
And the bright pink wall? "The pink wall happened one weekend while the hubby was away at a conference," Stacey told us. Hey — we're all for making a bold choice, especially when it comes to paint color!
Thanks so much for sharing, Stacey!
(Images: Stacey of Design Addict Mom via The Kitchn's submission form)