Kitchen Before & After: A Rundown Cottage Kitchen Gets a Little Charm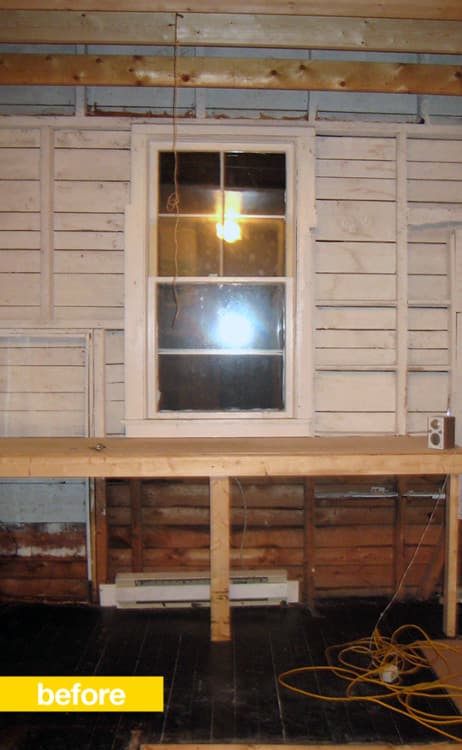 (Image credit: Janet Kimber)
Back in 2008 Kitchn reader Deb bought a cottage in Chester, Nova Scotia that needed a ton of work. "When I bought the house the kitchen was a disaster and pretty gross," she wrote to us. "The laminate floor, ancient appliances, lack of cupboards and brown paneling weren't going to cut it."
But she was determined to make "this strange kitchen with a horrible layout" into a charming cooking space! See how she transformed it:
(Image credit: Janet Kimber)
What an improvement! We love how Deb (of Deb Nelson Design) worked with the wood paneling and kept the cottage vibe. Here's what else she says about the project:
Originally it was a strange kitchen with a horrible layout, and it was very small. There was a wall separating the kitchen from a back porch/storage/entry area. I knew by removing that wall I would create a much larger space and have a nice large window on the back wall. The back porch had a drop ceiling of brown paneling and I discovered above that was a huge, high cathedral ceiling.
One of the first items on my agenda was to remove the wall between the kitchen and porch. The removal of this wall was an enormous, amazing change. The side door now came directly into the kitchen and created a much larger, brighter space. The high ceiling at the back was awesome, too. At this time I was only really using the house in the summers, so I kept the walls open (as in no insulation) and just painted everything white. I added a board as a counter, skirted it with linen and had a very inexpensive kitchen reno completed.
(Image credit: Janet Kimber)
(Image credit: Janet Kimber)
Thanks for sharing, Deb!
Have a kitchen tip, project, or renovation you'd like to show off?Every week we feature a reader kitchen project, and we're always looking for submissions. To submit your own project, follow the instructions in this post and you could see it end up here on The Kitchn.